Customer Success: Cutting Services
K&W Tool and Machine Inc. Cuts into the Future with Waterjet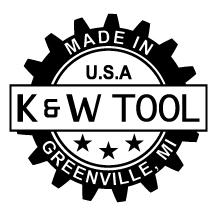 From .03 in. sheets of aluminum to 6 in. plates of steel, K&W Tool and Machine Inc. is using their dual OMAX JetMachining® Centers to cut everything that comes through their door.
K&W Tool was founded in 1998 by Joe Kohn. Originally the operation was ran out of a 2500 sq. ft. pole barn behind Kohn's house in Sheridan, Michigan. "Joe completed his Journeyman Tool and Die apprenticeship during the twelve years he worked at Tomco Tool & Die, and then started K&W. K&W's growth into our 100,000 sq. ft. facility has allowed us to add employees, and continue with the apprenticeship program," explains Camren Kring, Project Manager at K&W. The company has grown into a 42-employee operation out of Greenville, Michigan with a focus on innovative fabricating methods and in-house employee education. K&W fabricates for the full scope of industries: automotive, aerospace, energy, defense, ammunition, special machines, etc. Their website touts "extensive experience in many different types of armor cutting, ballistic aluminum cutting and other exotic materials utilized by the current industries in which we are involved."
K&W bought their first OMAX 120X JetMachining Center in 2010 to fulfill the needs of their customer base. The company liked the machine so much that they added a second OMAX 120X to their floor in 2016. Both machines are equipped with the optional Tilt-A-Jet® cutting head. With the Tilt-A-Jet addition, taper is almost completely eliminated ensuring off-the-table-ready parts. "We use both of our 120X waterjets at least ten hours a day; if we are busy we run them both 24/7," says Kring. Optimizing their abrasive waterjet capabilities, K&W is maximizing work flow as well as profitability.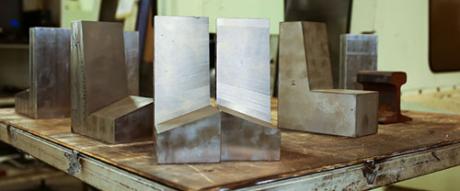 With the ability to cut clean, precision finished pieces of almost any material, the OMAX abrasive waterjet was the obvious choice for K&W to expand their already impressive equipment assortment of CNC mill and lathe, laser, grinders, and welders. "We chose OMAX for the service, good product, and a good salesman," says Kring. "It has helped us secure the work that others cannot do." K&W primarily uses abrasive waterjet because it has the ability to machine thicker materials, with small cut radii, that could not be successfully done as quickly on a CNC machine.
As K&W grew, it moved into manufacturing for aerospace and the defense industry. K&W cuts thicker material as well as armor plating for customers such as Oshkosh Defense, BAE, General Dynamics, and Lockheed Martin. "In the defense industry, everything is going to aluminum, we need the waterjet to cut the thick aluminum," says Kring. The large format bridge-style 120X with a cutting area of 20 ft. by 10 ft. is ideal for full-scale production of large or multiple part projects.
K&W is dedicated to the education of their employees. Their website states "K&W Tool not only continues to invest in the company, but also in its employees, through continued education towards apprenticeship programs, registered with the U.S. Department of Labor, and AWS Certified Welding Programs."
Utilizing progressive abrasive waterjet technology to keep ahead on customer needs while training the next-generation of tradesman, K&W is preparing for a bright future.