What is ProtoMAX?
Designed and built alongside the revolutionary OMAX waterjets, The ProtoMAX is a compact, self-contained cutting system ideally suited for prototyping and low-volume cutting of almost any material approximately 1" thick. Bringing all the versatility benefits of large abrasive waterjet cutters together in a sleek and economic package, this machine is ideal for prototyping or as a complement to a larger machine shop.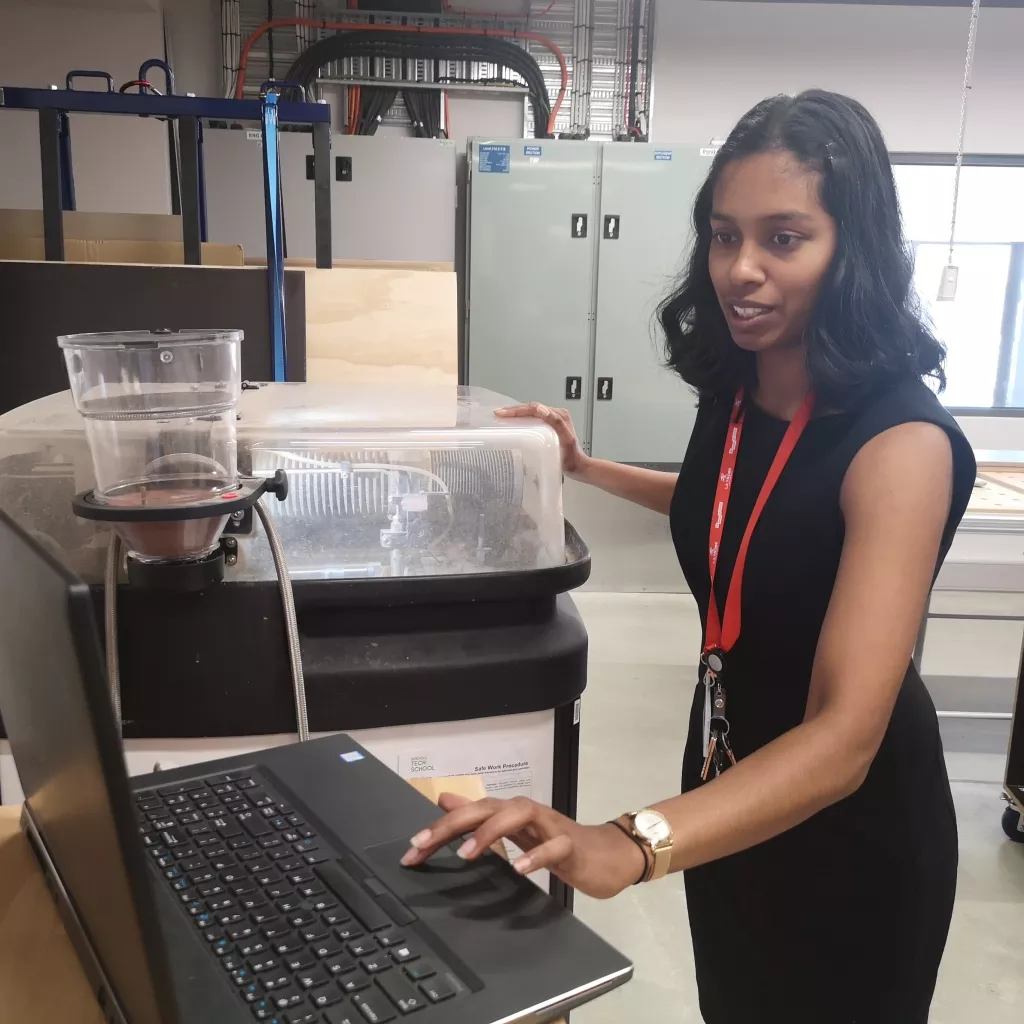 KEY FEATURES
Traverse speed up to 100 in/min (2,540 mm/min)
with ±0.005" (±0.127 mm) linear positional accuracy
Electrical 230-240 VAC single phase, 30A, 50/60 Hz
Easy to install Pre-install Kit to help you prepare for rapid setup 3-4 hours.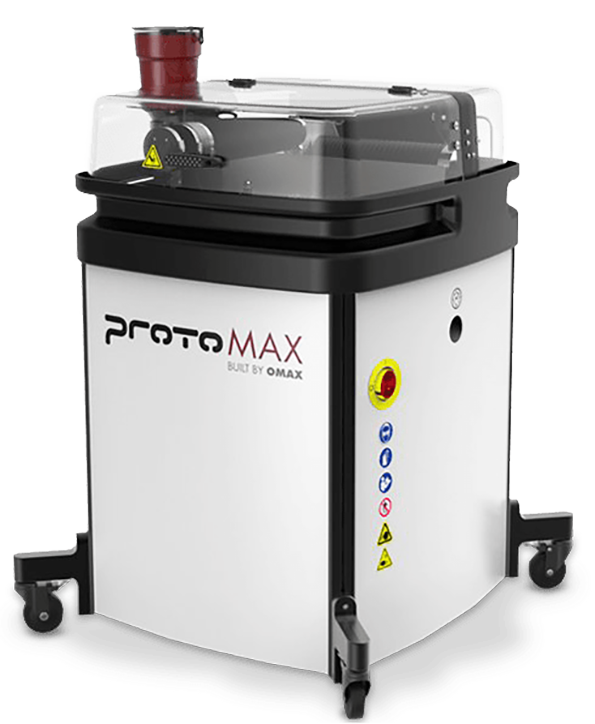 Dimensions: 39.5" x 56.5 x 41.5
(1,004 mm x 1,435 mm x 1,054 mm)
12" x 12" (304 mm x 304 mm) cutting enveloped for materials up to 1" (25 mm) thick
30,000 PSI (2,068 bar) direct drive 5HP (3.7 kW) pump technology generates best-in-class power
Laptop computer with pre-installed professional software included.
SPECIFICATIONS
Expand All
Download PDF
| | |
| --- | --- |
| Cutting Area | 12" x 12" (304 mm x 304 mm) |
| Max Material Thickness | 1.00" (25 mm) |
| | |
| --- | --- |
| Linear Positional Accuracy | &plusmn0.005" (±0.127 mm) |
| Repeatability | &plusmn0.003" (±0.076 mm) |
| Traverse Speed | 100 in/min (2,540 mm/min) |
| | |
| --- | --- |
| Pump Type | 5 HP (3.7 kW), Direct Drive |
| Cutting Pressure | 30,000 psi (2,068 bar) |
| High Pressure Water Flow Rate | 0.2 mm (0.95 lpm) |
| | |
| --- | --- |
| Orifice Internal Diameter | 0.008" (0.25 gpm) |
| Mixing Tube | 2.25" (57.15 mm) long; 0.030" (±0.076 mm) internal diameter |
| | |
| --- | --- |
| Electrical | 230-240 VAC, single phase, 30A, 50/60 Hz |
| Environment | 50 to 90 °F (10-32 °C) ambient temperature with 95% or less humidity |
| Location and Foundation | Intended for use indoors; must be placed on a hard, level, solid, non-porous, flame resistant surface. A concrete floor is recommended. |
| | |
| --- | --- |
| Minimum Input Water Pressure | 45-85 PSI |
| Minimum Flow Rate | 0.75 GPM |
| Temperature Required | 45-80 °F |
| | |
| --- | --- |
| Flow rate | 0.25 lbs. per minute |
| Recommended size | 80 mesh |
| Hopper Capacity | 14 lbs. |
5 HP (3.7 kW) pump generating 30,000 PSI best in class cutting power
Up to 1" (25 mm) cutting thickness over a variety of materials
Our proven direct drive pump technology is efficient and reliable
Software designed for abrasive waterjet cutting. Easy to set up and use - the industry gold standard
Small footprint, perfect for small spaces, fits through standard doorway (some modifications may be necessary)
Pre-Install Kit to help you prepare for rapid setup
System and all required components needed to start cutting arrive in one package
Arrives with additional tools and replacement parts to minimize downtime
Comes with a laptop, pre-configured with ProtoMAX control software
3-4 hour install after unpacking
Manual Z-Axis (cutting head)
Mobile Unit: Pump and system are on casters making relocation simple and easy
Quiet/Clean underwater cutting (Approx. 76 db)
Automatic pump shutdown during cutting when lid is raised
Precision X and Y drive components inside protective sealed bellows
Stainless steel ultra-flex sleeving protects HP plumbing
Industrial light projected onto cutting bed
Equipped with high-pressure transducer and safety relief valve to optimize cutting speed and safety
Material holding clamps for securing material
Pump stops during non-cutting traverses saving electricity
Garnet usage is minimized with optimal pressure and cutting models
System is configured with a variable frequency drive for high performance motor control that reduces energy consumption and maintenance
Garnet collection bins reduce frequency of tank cleaning and minimize garnet particle release
Removable side panels for easy service access
Minimal service required
Removable cutting bed - comes with 12 slats
Pump assembly returned to OMAX for repair or remanufacture
Easy-to-follow online manuals and for operation, maintenance, and troubleshooting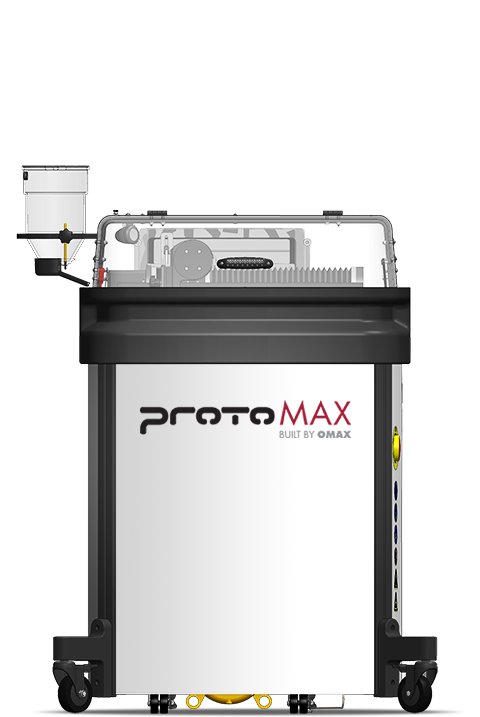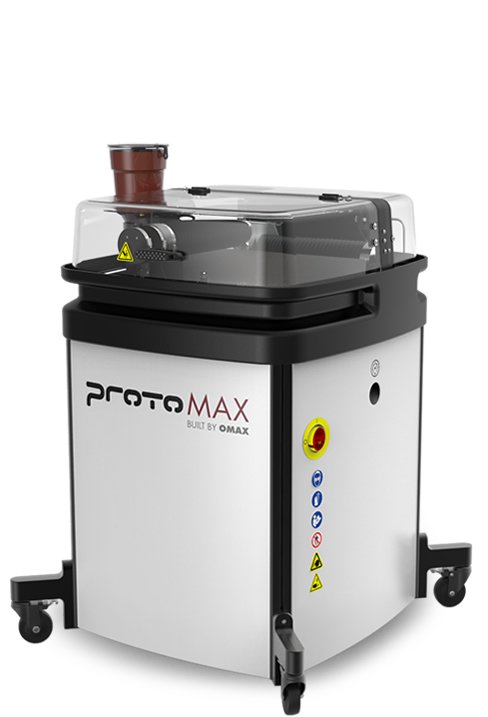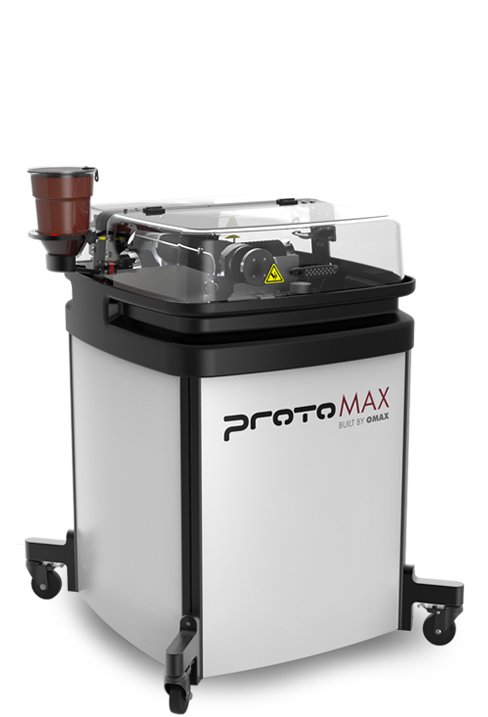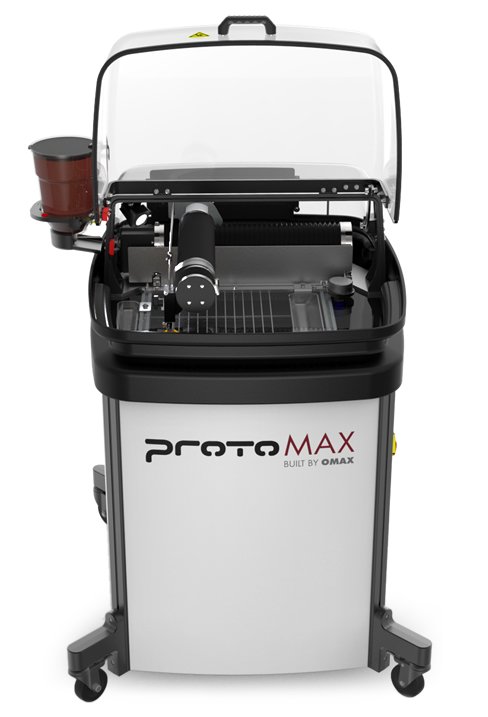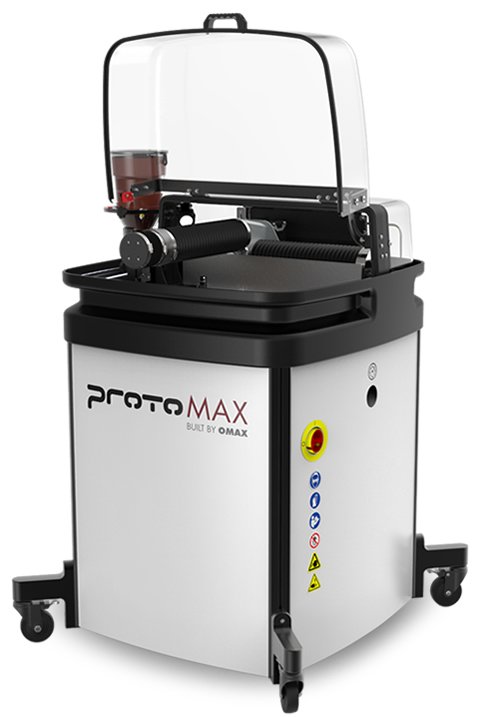 Laptop Tray
Start up, shut down and cutting preparation are easier when your controlling laptop is in close reach. Mounts directly to the side of your catcher tank and includes a bead chain for quick access of your standoff gauge.

Cutting Bed Kit
This option is great for cutting thin metals, cloth, gaskets, plastics which will drape between the slats and also glass, mirror and other materials which can fall through slats after cutting.

Hose Kit
Specifically engineered for the attachment to the water manifold, the hose kit is rated for continuous pressure without leaks or bursts and shipped with handy bracket to hang the spray nozzle on.

Spares and Consumables Kit
Your standard replenishment parts inventory with all the items you need for sustained operation. The kit includes extra slats, mixing tubes, orifices, garnet feed line, mixing tube retainer nut, nozzle body o-ring, water filter, splash guard and last chance filters.

Spares and Accessories Kit
Our most popular kit. This provides all the replenishment parts you'll need over an extended time including extra slats, mixing tubes, orifices, garnet feed line, mixing tube retainer nut, nozzle body o-ring, water filter, splash guard and last chance filters plus the drain water filter tank and water spray nozzle.

Screen Drain Filter
Drain tank water faster. The suction screen is a self-installed alternative to the standard foam drain filter included with the ProtoMAX. This design offers maximum drain flow rate and requires minimal cleaning.

Tank Drain Kit
Although most regions allow water from your catcher tank to flow to drain, certain locations and institutions may require additional filtration. This accessories contains a submersible "sump" pump that takes the filtered water direct to drain.
Upgrade Package
All the extras to make cutting more efficient
---
INCLUDES
ProtoMAX Abrasive Waterjet Cutting Table
ProtoMAX 30,000psi 5hp Direct Drive Pump
Nozzle Assembly
Garnet Abrasive, 55lb Bucket
LAPTOP & SOFTWARE
Laptop
IntelliMAX Proto Software
Software Seats

Unlimited

Software Upgrades

Free for Life

1 Year Warranty
System Spare Parts Kit
Drain Water Filter Tank
Water Spray Kit
Power Package
Upgrade Package plus extra garnet for continuous powerful waterjet cutting
---
INCLUDES
ProtoMAX Abrasive Waterjet Cutting Table
ProtoMAX 30,000psi 5hp Direct Drive Pump
Nozzle Assembly
Garnet Abrasive, 55lb Bucket
LAPTOP & SOFTWARE
Laptop
IntelliMAX Proto Software
Software Seats

Unlimited

Software Upgrades

Free for Life

1 Year Warranty
System Spare Parts Kit
Drain Water Filter Tank
Water Spray Kit

6 Buckets of Garnet Abrasive, 55lb Bucket
Standard Package
Additional consumables to keep your operation running smoothly
---
INCLUDES
ProtoMAX Abrasive Waterjet Cutting Table
ProtoMAX 30,000psi 5hp Direct Drive Pump
Nozzle Assembly
Garnet Abrasive, 55lb Bucket
LAPTOP & SOFTWARE
Laptop
IntelliMAX Proto Software
Software Seats

Unlimited

Software Upgrades

Free for Life

1 Year Warranty
Erosion. Pressurized water is directed into a fine stream that accelerates garnet particles into and subsequently through the material you are trying to cut.
The ProtoMAX system requires a 240VAC / 30A power source and access to water and a drain. The power requirement is similar to a household clothing dryer and is required to drive the 5 horsepower pump. Check out our Utility Requirements document for more information. Water temperature and quality can impact how well the ProtoMAX runs. While we have successfully tested the ProtoMAX over a wide range of temperatures and water conditions, we offer the following recommendations for optimal operation:
Temperature: 45 - 80°F
pH Level: 6.5 - 8.5
Total Dissolved Solids < 250 ppm
Calcium < 17ppm
Magnesium < 6 ppm
Iron < 0.3 ppm
Manganese < 0.05 ppm
Chloride < 100 ppm
Sulfate < 200 ppm
Silica < 10 ppm
The ProtoMAX can cut through nearly any material including all those listed below and more. To get a better look at materials any OMAX waterjet can cut click here.
Material
Aluminum
Stainless Steel
Mild Steel
Granite
Marble White
Acrylic
Glass
Carbon Fiber
Foam
The ProtoMAX is the fastest cutting waterjet of its size. It has a 5 hp pump and operates at a pressure of 30,000 PSI. Industrial waterjets operate at pressures between 45,000 and 90,000 PSI so while you're not going to cut at industrial speeds, you will still cut fast.
Below is a table that shows some basic materials, thicknesses and linear cutting speed. All cuts were performed at Quality 3 (Q3). Edge quality is defined within a range of Q1 - Q5 with Q5 being the best, i.e. with very little serration or roughness. You can choose quality of cut within the ProtoMAX control software which optimizes the speed of cut by selecting the fastest path for quality chosen.
Linear Speed *
 
 
Material
Thickness
Inches Per Minute (IPM)
 
Aluminum 6061
.125"
9.4
Aluminum 6061
.250"
4.55
Aluminum 6061
.500"
2.13
 
Stainless Steel 304
.060"
7.93
Stainless Steel 304
.120"
3.95
 
Mild Steel
.188"
2.46
Mild Steel
.250"
1.82
 
Granite Absolute Black
.375"
1.48
Granite Snoqualmie
.375"
2.28
 
Marble White
.375"
2.9
 
Acrylic Clear
.120"
18.41
 
Glass Sheet
.250"
4.52"
 
Carbon Fiber
.040"
45.93  (Q5)
Carbon Fiber
.120"
27.44
* Listed here are linear cutting speeds, as one could expect to achieve when cutting in straight line. When cutting real-world geometry with curves and corners, the cutting is significantly slower, due to the need to slow down the cutting for the jet behaviors. Parts with lots of corners will be significantly slower than straight line cuts or shallow curves. All of this calculation is handled for you automatically by ProtoMAX MAKE's built in cutting models.

Quality 3 is based on cutting scale of Q1 to Q5. Q3 has a very good edge finish at a reasonable cut speed. Cutting faster, (Q1) will result in rougher edge finish and additional taper. Cutting slower, (Q5) will result in a very smooth cutting surface with no striations and minimal taper.
The ProtoMAX uses 0.42 gallons per minute while cutting, which is a combination of high pressure and cooling water.
It depends. Water and garnet, a naturally occurring mineral, are inert. The water draining from the catcher tank will contain abrasive and a small amount of the material that is cut and that may influence what you can pour down the drain. Check your local wastewater regulations to learn what you can and cannot dispose of down the drain.
We don't recommend recycling garnet for use in your ProtoMAX system as your cutting performance may suffer. Used garnet can be disposed of in landfills or repurposed by concrete manufacturers. To learn more read - When it's Time to Remove Solids.
We've built the ProtoMAX to require minimal maintenance, which includes:
Flushing the nozzle (water without garnet) after each use
Changing the pump oil every year or 250 hours, whichever occurs first
Removing the spent garnet periodically depending on usage
We are designing the system to be compliant with UL requirements.
The ProtoMAX lid is designed to stop all cutting when open and the On / Off switch is ergonomically located on the side of the machine. ProtoMAX may emit minimal water vapor from the cutting process.
In our intgernal testing, the machine operated at 76db when cutting under water.
The ProtoMAX system includes:
Unit enclosure
XY motion system, cutting platform, and a catcher tank
Nozzle and mixing tube
5 hp pump (operating at 30,000 PSI)
All electrical and plumbing
Laptop configured with Intelli-MAX software
55 lbs. of garnet
Everything you need to begin operation after install.
ProtoMAX has an online marketplace where you are able to purchase garnet, consumables and ProtoMAX accessories.
The ProtoMAX system weighs about 300 lbs for the table and 200 lbs for the high pressure pump, plus about 100 lbs for packaging and accessories. The unit is shipped on one pallet. You may also choose from a variety of additional accessories that would be shipped on a separate pallet. We will ship via truck with a lift gate for ease of off load.
The crated ProtoMAX crated weight is about 600 pounds and we will choose a freight company that has lift system to lower the unit to the ground. The product is shipped on a 49" X 49" pallet that can be moved close to your installation location or you can offload the product and wheel it to your location. We recommend at least two people to help with the offloading, unpacking and installation procedure.
Yes. The ProtoMAX table and pump are equipped with casters to make moving easier. Keep in mind that moving the unit will require duplicating many of the installation procedures in the new location.
The ProtoMAX is available worldwide.
A ProtoMAX measures 41.5 inches deep X 39.5 inches wide. It measures 69 inches tall with the clam shell open. OMAX recommends 16 inches between the machine and your wall for utility connections. The box the ProtoMAX arrives in is 49 inches deep by 49 inches wide and 61 inches tall.
Based on the feedback from our beta-testers, it's pretty easy. Our testers ranged in experience and age and most found drawing, importing and pathing to be uncomplicated. We will make the software available soon and encourage you to try it and decide for yourself.
The Intelli-MAX software makes it easy to do both. Layout is our CAD software that can be used to draw or import files. Below is a partial list of file extensions that can be imported into LAYOUT (and in some instances use Intelli-TRACE) to create tool paths:
File Extensions
.dwg
.dxf
.ord
.pdf
.svg
.ai
And many more.
The ProtoMAX is designed with that in mind. As long as your computer meets the minimum system requirements (essentially Windows 10 64 bit), then it should work. Setup is just running the installer, and answering a few questions. The main purpose of doing this is to have a computer more powerful than the very basic one supplied, which can be nice for those who wish for a snappier experience.
Yes, although some future software products, add-ons, and the like may be at some cost.