Tips & Tricks
Top 3 Spare Parts to Always Have on Hand
Make This Your "Zero Downtime" Year
A new year means a clean slate, a fresh start – and for your shop, it's a new opportunity to improve your operations, boost your productivity and maximize throughput. Of course, you can't achieve any of these goals if your waterjet is down. To make 2021 your shop's best year ever, it's vital to prepare for the issues you know you'll face so you can focus on the problems you weren't expecting. Luckily, minimizing downtime is one of the most impactful things you can do to improve your shop's performance, but it's also one of the easiest.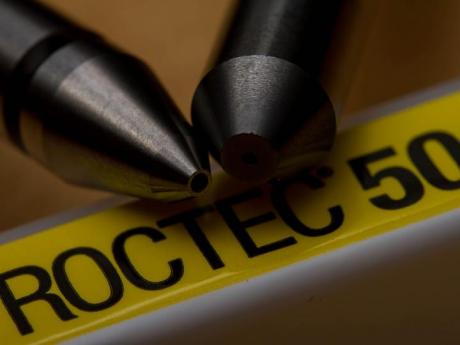 Eliminate the vast majority of waterjet issues with planned maintenance, following the schedule included in the Service and Maintenance Guide for your JetMachining Center. Most of these are simple weekly tasks, such as checking and changing oil and belts, but for consumables and machine components subject to wear, replacement times will vary depending on a wide range of factors.
To avoid unplanned maintenance that wrecks your shop's schedule, it's a good idea to keep the spare parts you'll need for maintenance on hand. Consider getting started with our list of the top three spare parts you should keep in stock this year
Mixing Tubes
We use high-pressure water and abrasive in waterjets to cut nearly any material with the utmost efficiency. The mixing tube where the garnet and water meet also wears away gradually, forming an irregular orifice that creates a less-accurate stream. Furthermore, misaligned jets, damaged jewels or contaminated garnet abrasive can damage the relatively fragile mixing tube. Keep a few spare mixing tubes on hand so you can quickly switch out broken or damaged tubes and get right back to machining.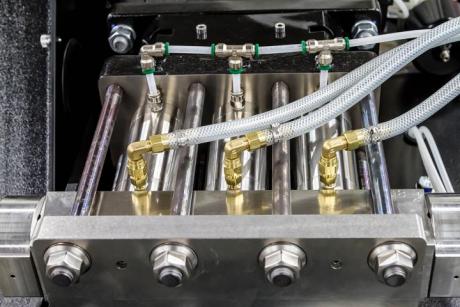 Pump Rebuild Kits
Following 500-2,000 hours of operation, depending on the OMAX or MAXIEM machine model, the wet end of the high-pressure pump system needs routine maintenance. To simplify this process, OMAX offers minor and major pump rebuild kits that include a full set of O-rings, seals, filters and more. A skilled professional can perform this routine maintenance easily in-house, but for shops with less experience using waterjets, OMAX offers comprehensive pump rebuild programs.
Garnet
Last, but certainly not least, is the abrasive material itself. While OMAX waterjets are among the most efficient in the industry in terms of abrasive usage, their abrasive feed rates can top two pounds per minute, so any waterjet shop will quickly discover just how quickly the used garnet piles up. However you decide to source fresh, sharp abrasive garnet, make sure to have extra on hand, as nothing is more frustrating than a perfectly good machine without any abrasive to cut with.
Make 2021 your shop's best year ever by getting started right. Visit the OMAX Marketplace to get factory-direct, genuine OMAX spare parts and more, or contact your local OMAX representative to learn more about our service and support options.