Tips & Tricks
Four Reasons To Always Use OMAX Genuine Parts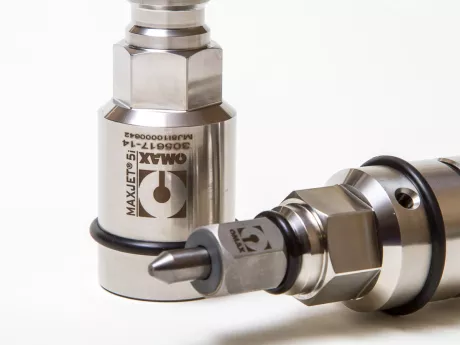 We've all done it: snapped up a generic, aftermarket replacement part or consumable in the quest to save a few dollars. But while the desire to cut costs is understandable, how much are we giving up in return for those short-term savings, and is it really worth it in the long run? In many cases, aftermarket parts are not made to the same specifications and tolerances, leading to subpar performance, early fatigue and failure, or creating other issues of their own.
In 1993, OMAX took the abrasive waterjet machine to the next level, making it precise, affordable and user-friendly. Now that it's a global leader in advanced abrasive waterjet systems, it only makes sense to protect your investment with genuine OMAX OEM parts, and here's four reasons why.
1. Made with quality and precision
First, the same experience, expertise and attention to detail used to design and develop OMAX abrasive waterjets is used to produce OMAX OEM parts. Each part is crafted to OMAX specific critical dimensions and tolerances and manufactured from the correct alloys and material grades.  
Though some money might be saved on the front end by purchasing aftermarket parts and consumables like mixing tubes and nozzles, quality and durability are, in many cases, lacking. In the end, customers usually find they spend more money more often with an aftermarket part purchase. Ultimately performance issues are resolved with the installation of genuine OMAX parts.
2. Designed and tested for OMAX systems
OMAX genuine parts are designed by the same engineers who developed your OMAX systems and are subjected to rigid quality control standards for functionality and reliability. They are literally made for and fit your machine perfectly.
3. Maximize system performance
Maintaining your machine with genuine OMAX parts ensures that high-pressure plumbing, precision systems and pump components all operate at optimal levels. In addition to maximum performance, using OMAX parts will maintain your manufacturer's warranty for continued service and protection.
4. Less downtime when issues arise
Should a maintenance issue arise, it's much simpler for OMAX support technicians to troubleshoot and diagnose the problem accurately when OMAX genuine parts and consumables were used to maintain the machine. In some cases, we've found that aftermarket parts lie at the core of problems like pressure spikes, dead heads and early fatigue failure. In some cases, an aftermarket part or consumable cause long-lasting damage. Troubleshooting a machine equipped with non-OEM parts in many cases requires an additional layer of diagnostics to ferret out the issue.
Finally, customers purchasing OMAX OEM parts can be confident they received the exact part they needed. Engineers, field service technicians, and phone technicians are all part of the dedicated OMAX customer service team, who have the knowledge and expertise to provide customers the parts and consumables they need and when they need them.
We all like to save a little money, and in the long run, the best route to the long life and cost effectiveness of your OMAX abrasive waterjet is using genuine OMAX OEM parts.