Tips & Tricks
How Machine Tool Suppliers Can Be a Shop's Best Resource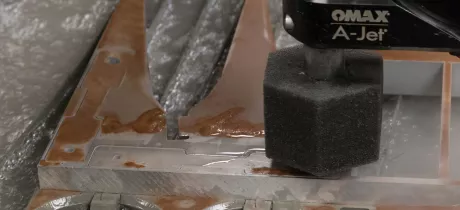 The faster a shop can get up to speed on new equipment, the sooner its workflow – and its bottom line – will benefit. That's why a knowledgeable OEM can be your best resource to grow your business. At OMAX, our mission centers around delivering precise, easy-to-use and cost-effective waterjet systems, with strong after-sales support. From basic cutting to advanced operations, our customers count on OMAX to help eliminate guesswork and maximize their productivity.
Before customers acquire a new OMAX or MAXIEM machine, our Free Test Cut service allows them to see how one of their representative jobs could benefit from abrasive waterjet cutting. Along with a sample part cut from a customer's own file, we document how waterjet versatility can save setup and cut time while eliminating heat-affected zones. Armed with these results, customers know the value of our technology before they invest in it, so they can plan ahead for better results on recurring jobs – and additional work from new or existing sources.
OMAX genuine parts help customers achieve peak equipment performance and longevity, simplify troubleshooting and maintain warranty coverage. With easy access to online parts orders through the OMAX Marketplace, customers can obtain replacement mixing tubes, spares and garnet abrasive quickly and efficiently. We also offer a wide range of accessories – including multi-axis cutting, bridges, chillers, nozzles and solids removal systems – that expand capabilities further.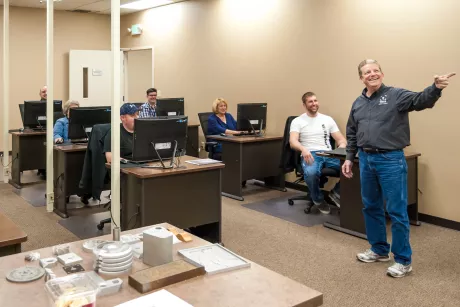 Abrasive waterjets incorporate fewer wear parts than other types of cutting machines, but they do require periodic service to keep them in top operating condition. Our system monitoring software tracks performance and maintenance data to optimize performance. Operators can track customized parameters and use remote monitoring to stay ahead of potential problems.
We design our machines for ease of operation, but we also assist customers in training their way to expertise. Our installation technicians provide get-started training, and along with online and on-demand introductory and advanced operator classes, we also offer customized sessions upon request for customers seeking more specialized course.
Hardware investments can expand a shop's capabilities with new types of jobs and materials. Shops that add abrasive waterjet systems to their workflows quickly find the technology essential – along with the many ways that OMAX supports their productivity as a machine tool supplier that understands and anticipates customer needs.