Tips & Tricks
A Primer on Waterjet Mixing Tubes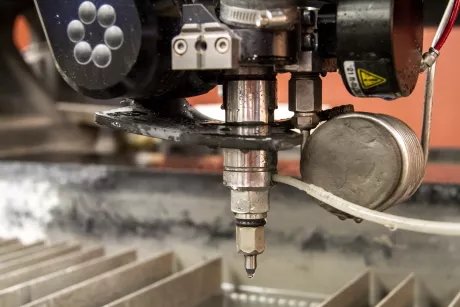 The terms nozzle and mixing tube are often interchanged when people are talking casually about waterjets. A nozzle is the whole assembly where the water is focused through an orifice, abrasive is added to the jet stream in a mixing chamber, and the combined mixture is focused and extruded from the machine. The mixing tube is the last part of the nozzle that concentrates and directs the water/abrasive mixture.
ROCTEC mixing tubes are made of a tungsten carbide-based material. Although the mixing tube is made from an extremely hard material, with time the flow of high-pressure water and abrasive will wear away the mixing tube. This causes a gradual widening of the mixing tube, which results in a wider, less accurate stream of abrasive and water. It is because of this that OMAX recommends rotating the mixing tube a quarter turn every eight hours of cut time.
The mixing tube should be replaced when tolerances drop below acceptable levels. For maximum accuracy, replace the mixing tube more frequently. The size of the kerf and cutting performance are the best indicators of mixing tube wear. Please read here on further information on kerf and how it affects cutting performance.
OMAX exclusively recommends Kennametal ROCTEC mixing tubes of which there are three options:
The standard in mixing tube technology. Longer lifespan and efficiency over non-ROCTEC mixing tubes. 
Improved cutting accuracy and tolerance levels vs the ROCTEC 100. Less machine downtime and longer nozzle lifespan compared to ROCTEC 100 and tungsten carbide/cobalt mixing tubes.
APX nozzles provide a longer period of precision cutting while increasing operational efficiency, with long life and consistent wear setting a new standard for high-performance cutting. Nozzles maintain the same accuracy throughout repeated cut cycles.
OMAX Corp recommends the ROCTEC 500 for most users. We have found that at this point it is the most cost-effective option. However, if you have found that the ROCTEC 100 works for your business, please continue to use it. Likewise, the ROCTEC APX is a great mixing tube that may fit your business perfectly. Ultimately, it's up to you what mixing tube you use. Just be aware that there are options.
The ROCTEC 100 and ROCTEC 500 are available in the OMAX Marketplace in a variety of sizes.