Tips & Tricks
Preparing for Your Waterjet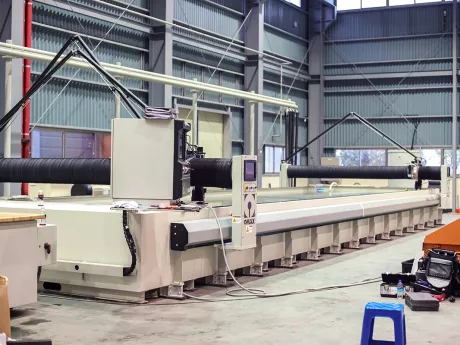 If you are waiting for your newly purchased OMAX abrasive waterjet to arrive, or you're just thinking of adding an OMAX to your shop, you'll want to make sure your facility is prepared to use your new machine. Below is an overview of general requirements you'll need to consider before the OMAX installation technician arrives at your location.
Note that your specific machine, given variations in product lines, and customization, will have unique requirements outside of what is listed. For each purchased machine you will receive a detailed utility document that will outline your machines requirements. You will also receive an installation agreement outlining the customer responsibilities prior to your waterjet arriving.
All this pre-preparation is to ensure you get your machine up and working as fast as you can.
Location
Designate an area at your facility to store all the OMAX boxes and additional crates as they arrive. This is ensure that when the OMAX installation technician arrives, everything will be in the same place. Do not open the boxes until the technician is on site.
It is required for the waterjet owner to supply lifting capabilities. This is so that all the pieces of the abrasive waterjet can be assembled and positioned when needed. This includes, but is not limited to, adequate sized forklifts or cranes, lifting straps, and spreader bars as well as equipment operators or a rigging service on call. 
Your facility should maintain a stable ambient temperature between 50 and 90°F. A waterjet is primarily water and metal; both are affected by extreme temps. Also, your humidity needs to be 95% or less. The humidity level is important to keeping your garnet as dry as possible. Garnet that gets wet will clump and clog the hoses or valve.
Though not the most bulky of machine tools out there, some of the larger models of abrasive waterjets can take up a significant amount of space. There needs to be a four-foot throughway between the machine and the rear wall for cabling, operations, and maintenance accessibility. At your request, OMAX can supply a machine .dxf to aid in creating a layout for your facility and waterjet. Also consider that the waterjet tank is steel and will be filled with water and garnet. The weight of the whole machine will be considerable. OMAX recommends a 4-inch thick, 3000 psi steel reinforced concrete slab. For certain machine models, the floor flatness underneath machine needs to be level within 1 inch. You should consider height requirements of the machine. OMAX recommends a ceiling height of at least eight feet. This is so that the connection between the pump with the cutting nozzle (either a scissor assembly for bridge machines, or a whip for cantilever machines) can move freely while in operation.
Water
Supply water to the pump and then to the nozzle should be between 45 and 60°F with a pH level of 6.5 to 8.5. Outside of that range, and you may see excessive fluctuation in your gasket and seal life. If your water is too hot, OMAX does offer a line of chillers available to complement any machine.
The OMAX machine requires filtered water. All the pumps come with filters build in; however, additional water filtering may be required to prevent premature clogging of these filters if the incoming water is especially dirty. The OMAX pumps come equipped with a one-micron filter as well as a 0.45 micron filter. For some geographic areas an optional larger pre-filter may be used to extend the life of the fine filters. OMAX is able to set you up with a pre-filter set-up if needed. There is also a reverse osmosis system available.
Air
Air is required to operate valves in the OMAX and MAXIEM lines as well as to operate the utility air hose for cleaning and drying. Supplied air of 75 to 120 psi is required for these units. Air must be clean and dry.
Machines with rapid water level controls require additional supplied air. If you have purchased one of these machines you will need to further consult your utility document for more information.
Electrical
Electrical requirements are crucial. However, since the requirements are specific to the type and power of the pump you've chosen, you will need to consult your utility document or call customer service. The OMAX JetMachining Center is provided with a ground strap that must be attached to a recognized ground. 
Installation Agreement and Utility Document
Remember, and we cannot stress this enough, to read and fill out your installation agreement. This agreement triggers the shipment of your machine as well as the scheduling of the installation technician. Also review your utility document to ensure the correct parameters are met.