Tips & Tricks
Not All Abrasive Is the Same
There are many different kinds of abrasives including garnet, staurolite, olivine, crushed glass and copper slag. There are also different brands, grades and sizes of abrasives. Garnet is the most popular abrasive for abrasive waterjet applications because it balances cutting speed, cost, low silica content and mixing tube wear.
What to Look for in Quality Abrasive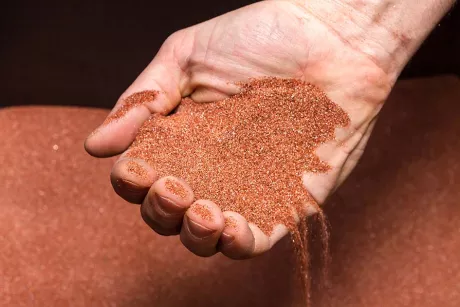 Double-sifted – This abrasive goes through two sifting processes – one to remove all the large particles and another to remove the fine particles, leaving only particles of the desired size.
Sharp – The sharper the abrasive particle, the better it will cut. Crushed garnet is sharper than garnet from a beach, which has been worn into round beads.
Purity – Look for an abrasive that is pure. Obviously, if the abrasive is advertised as "garnet," but only has 10% garnet in the mixture, your cutting performance will suffer.
Hardness – The harder the abrasive, the better it will cut. If you are cutting primarily aluminum or other "soft" materials, then you may wish to choose an abrasive that is softer and cheaper than garnet. This will reduce the cost of abrasive and the wear on your mixing tube.
Mesh size – 80-mesh abrasive is popular, and tends to be more expensive. If you use a coarser or finer abrasive, you can save some money. The trade-off is that you may not cut as well. In some circumstances, however, it may be worth it.
Finer abrasives may be helpful to reduce pitting around the edges of glass, but will also result in more taper. Coarser abrasives may cut more aggressively, but may accelerate mixing tube wear, and will increase the risk of nozzle plugging significantly unless you use a correspondingly larger mixing tube.
Note: Be sure to change the settings in MAKE to match the abrasive you use. This is done by changing the "abrasive index" and "abrasive size" values under Setup / Pump and Nozzle Settings. You should also accurately report the actual (measured) value of the abrasive flow rate. Inaccurate values can cause poor cutting performance and the inability of the cutting model to properly predict edge quality, taper, proper cutting speed, corner pass distances and piercing.
The Right Abrasive
Barton's garnet for waterjet use comes in either High-Performance Alluvial (HPA) or High-Performance Hard Rock (HPX). Both HPA and HPX offer a variety of different meshes for all your waterjet needs.
Higher-mesh HPA is used in waterjet cutting and lower-mesh HPA for abrasive blasting. Made from top-quality globally sourced alluvial garnet and processed to BARTON's uncompromising industry-leading standards, HPA waterjet abrasives provide excellent performance, surface quality and economy.
HPX is used almost exclusively for waterjet cutting. The premier waterjet abrasive, HPX has a measured rate of breakdown and produces sharp, angular cutting edges. These sharp, angular grains cut more quickly and offer superior edge finishes. This garnet is mined, milled and processed to meet BARTON's high quality specifications, which involves added processing stages and close attention to detail during the refining process. As a result, this high-purity garnet abrasive costs more but also delivers superior cutting results. Our tight, consistent control of the particle size distribution maximizes the performance of your waterjet.