Tips & Tricks
Maximize Productivity with OMAX Predictive and Preventive Monitoring
Production success depends on more than careful material selection, part programming and setup. OMAX IntelliMAX software makes every minute count, with real-time monitoring of equipment performance whether you're on or off the shop floor. Integrated software tools predict system behavior and video monitoring keeps on eye on actual performance.
To ensure that you can control, monitor and optimize waterjet operations, OMAX designs and tunes every aspect of the IntelliMAX software suite to take advantage of the unique parameters of our hardware. As a result, you control the cut and quote it with fraction-of-a-second accuracy. Within IntelliMAX, MAKE cuts each part virtually first, verifying every aspect of the cutting path and each feature of the design, so you know exactly how long each job will require. When you quote a job for a customer, you're using accurate data, not guesswork.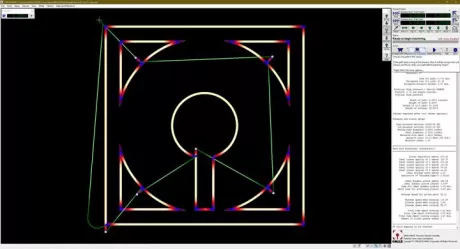 The reports you generate from our software add immense value in your planning process, and you can create them on an office computer or laptop away from the shop floor. Beyond their accuracy, these reports also offer versatility through tags that monitor the specific performance variables you select. Multiple data-export options include text files for use in other applications, full-color spreadsheets and web pages, all of which can display your branding elements as well as your production information.
During the cut, OMAX IntelliVISOR system monitoring functions track watch parameters through modules that process the inputs you specify and respond to threshold values you set. If a performance parameter exceeds or falls below these thresholds, you receive customizable onscreen alerts, error-log entries and even e-mail or text messages. Monitor everything from maintenance checklists and pump status to abrasive levels and real-time cutting data. IntelliVISOR also can insert alerts and pauses at specific points in a cutting program.
The OMAX Watcher program provides additional process monitoring through a remote video feed so you can see what your abrasive waterjet does and even pause a cut from your office PC. Watcher can track multiple OMAX machines through a unified interface and show you how much time remains on a cut.
Whether you're verifying the progress of a job or validating the maintenance status of a machine, OMAX software gives you the tools to stay ahead of everything from consumable levels to part production. With extensive, customizable monitoring and reporting capabilities, these tools make productivity easy while they boost the profitability of your production line.