News Articles
A Nepalese Gristmill, a Waterjet and Fort Lewis College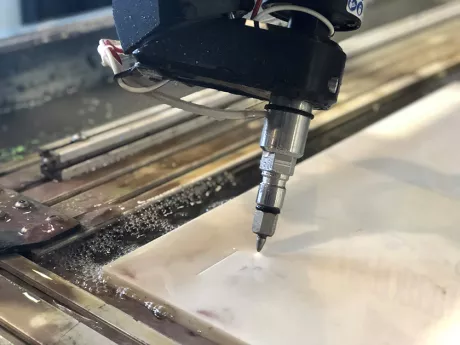 Waterjetting isn't new to stone fabrication, though it is still not the norm. Due to being quick, accurate and safe, waterjets are starting to be featured more in stone shops working in the custom architectural and design fields. From granite to Dekton, abrasive waterjet is perfect for cutting chip-free countertops, intricate medallions, beveled edges, straight cuts and geometric arcs. Common stone applications include quartz blanks for precision mirrors, inlaid marble flooring, decorative wall panels, stone sculptural pieces and, when the need arises, granite gristmill stones. The ability to machine precise dimensions in nearly any material makes waterjet a perfect tool for intricate jobs with expeditious turn-around times. With optional water level control, machining can be done underwater allowing for a significant reduction of harmful dust and particulates.
With the aid of an Omax brand abrasive waterjet, students at the Department of Physics and Engineering at Fort Lewis College in Durango, CO, are learning how their fabrication and manufacturing education can help solve concerns around the world. Recently, the program's seniors worked in unison with the Bhotia Foundation to reinvent a more effective gristmill for the town of Chyamtang, Nepal. 
"The goal of the gristmill project is to redesign the 'stone age,' hydro-powered gristmill currently used throughout rural Nepal and incorporate modern, efficient mechanical systems," said Dr. Don May, PE, professor of engineering at Fort Lewis College. "Remote communities in Nepal are dependent on growing a variety of grains for subsistence living. The technology used to construct a village gristmill to grind grain (corn, millet, wheat, barley, etc.) into flour has been passed down through generations with little change. Hand-hewn grinding stones, wooden shafts, wood and stone bearing primitive tentering systems used to adjust the spacing between the grinding stones, and wooden flumes and turbines are all much the same as they were hundreds of years ago.
Read full article