News Articles
Meeting Standards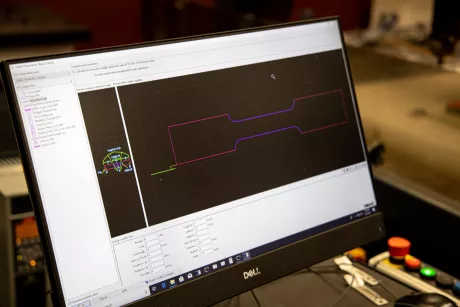 Choosing the correct tools can be the defining factor in a true representation for testing. In an ideal scenario, testing preparation shouldn't impart any additional changes to the original material but many traditional cutting machines leave residue or distort the material.
As stated in ASTM E8/E8M–13A under Subsection 6.1.3, "Improperly prepared test specimens often are the reason for unsatisfactory and incorrect test results. It is important, therefore, that care be exercised in the preparation of specimens, particularly in the machining, to maximize precision and minimize bias in test results."
However, there is an option for test prep that is fast, clean and versatile yet might be overlooked. Abrasive waterjets can work as a valued solution for all types of metallurgy testing. By cutting testing coupons on a waterjet, some manufactures are seeing up to nine times faster preparation speed.
When cutting any type of metal coupon, traditional CNC machines impart heat, add oil or coolant, and leave burrs. Cutting with laser, plasma, EDM or traditional saws each transfer some level of heat that will need to be dealt with in a secondary process, in addition to leaving slag or chatter marks.
ASTM standards require specimens for testing should be "free of cold work, notches, chatter marks, grooves, gouges, burrs, rough surfaces or edges, overheating or any other condition which can deleteriously affect the properties to be measured."
Read full article