News Articles
Excerpt from SME.org
Learn By Doing: Cal Poly Integrates Compact Waterjet into Engineering
California Polytechnic State University's (Cal Poly) Industrial and Manufacturing Engineering (IME) Department is ensuring its students are prepared for the future of fabrication by integrating abrasive waterjet into its curriculum. In 2018, the IME department added a ProtoMAX abrasive waterjet from OMAX to its Materials Removal lab, showcasing non-traditional cutting methods for students from all majors. As part of Cal Poly's "learn-by-doing" philosophy, the ProtoMAX will be available to engineering students, allowing firsthand experience on the applications, operations, and versatility of abrasive waterjet technology.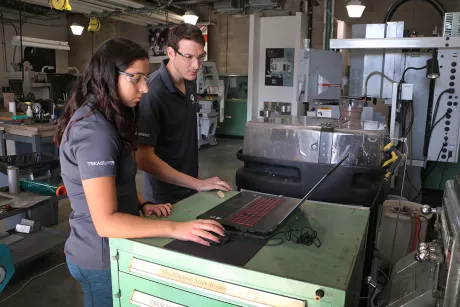 Educating Practical Engineers
In 2015 and again in 2018, U.S. News and World Report ranked Cal Poly's IME program first for undergraduate engineering programs. Trian Georgeou, an IME Lecturer, said, "state-of-the-art facilities and laboratories form the core of engineering's project-centered curriculum. Ranging from the Aircraft Design Lab to the Gene Haas Advanced Manufacturing CNC Laboratory, these facilities offer advanced technological systems that allow students to link theory with practice."
From programming CNC mills to project and data management, the IME program gives students a solid foundation to be competitive for a career in today's engineering world.