News Articles
Generative Design and the Conventional Machine Shop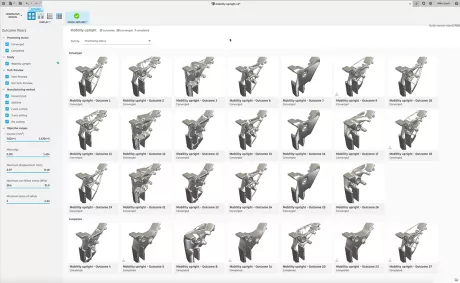 The term generative design has been popping up in the manufacturing world of late. Its promise is to create many design permutations to let engineers choose an optimum one that meets sometimes conflicting requirements.
The problem is that many of the designs that result from using generative algorithms are complex, even organic looking, with complex curves and webs. This has led to a strong association of it with additive manufacturing (AM), which can be expensive to obtain and operate. Materials are more limited compared to traditional machines. This link has discouraged the idea of generative design for many machine shops.
However, traditional shops do not need to invest in new AM equipment to build parts inspired by generative techniques.
Generative designs are created by software that uses real-world manufacturing constraints and performance requirements to design a number of permutations. The final results are usually in the form of a CAD-ready model. They balance conflicting requirements to varying degrees, which might include, say, minimum weight and maximum safety, or minimum cost and maximum functionality.
Generatively inspired designs are created through a generative process but are further augmented to fit into the manufacturing capabilities of a specific shop. With the advancement of generative design software, a manufacturer open to new trends can more easily bring a generatively inspired product to market.
Read full article