News Articles
Cutting versatility a must at custom boat shop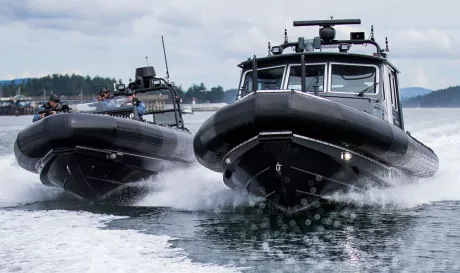 Founded more than 20 years ago, Titan Boats, based in Sidney, B.C., initially focused on manufacturing vessels for the ecotourism industry and governmental agencies in Canada. In 2015, amidst growing demand, the company embarked on a plan to diversify and expand its product line. As a result, the shop needed new, adaptable technology to boost capacity, efficiency, and production capabilities for a broad range of customers and industries. That new technology proved to be abrasive waterjet cutting.
Shortening the Supply Chain
Titan is an OEM of aluminum rigid-hull inflatable boats that started in the basement of the home of John Stanners, the company's president, in 1998. The company manufactures vessels for the law enforcement, search and rescue, firefighting, environmental, and commercial tourism and recreation sectors. To date it has produced more than 400 custom aluminum boats. In addition, the shop takes on specialty fabrication projects for various customers in other industries.
Operations include welding, bending, metal rolling, and die cutting. The shop operates out of a 10,000-sq.-ft. facility and employs 34.
Read full article