Customer Success: Manufacturing
Titan Boats: Cruising Through Production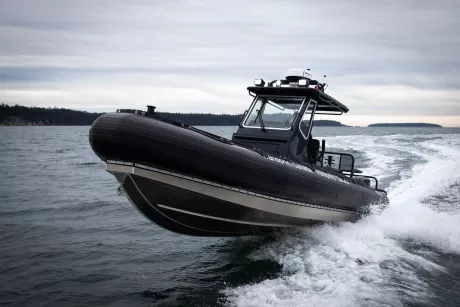 The aluminum hull of Titan's 300 Supermax boat gleams in the salt water spray of the Straits of Georgia. Making 45 knots, the Royal Canadian Mounted Police vessel races to meet up with a suspect container ship heading towards the Port of Vancouver. This scene, and a thousand like it, play out every day with the fast, rigid, and reliable vessels produced by Titan Boats.
"We are an OEM manufacturer of aluminum rigid-hull inflatable boats," said Jennifer Michell, Organization Development Manager for Titan Boats. "For the most part we serve government agencies. However we also support other manufacturers, science and energy, and various other industries."
Titan got underway in 1998 in the basement of the family home of John Stanners, the company president. Originally, the company provided high-quality aluminum rigid hull inflatable boats for the eco-tourism industry in Victoria, BC, Canada. After conquering the local market, Titan moved into producing Canadian government vessels and beyond. Today, Titan Boats inhabits a 10,000sqft. facility on Vancouver Island. The company employs 34 full-time staff to keep up with growing demand.
That growing demand requires increased productivity. "In the past, we hand cut all our boats out from templates," explained Michell. "Then we started making use out of drafting and design software. What we did have in a CAD format, we'd send to get waterjet cut. However, living on Vancouver Island means that the nearest waterjet machine that could meet the size requirements of our vessels would be off island. That meant shipping costs and lead time waits. We wanted to eliminate those added expenses with the purchase of our waterjet."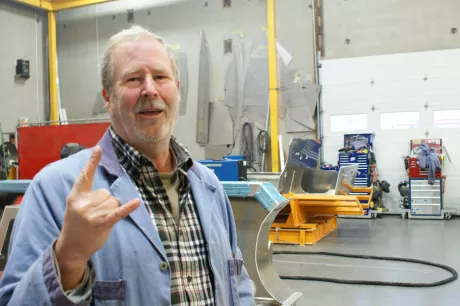 In 2015, Titan Boats opted for an OMAX brand abrasiver waterjet, the MAXIEM 2080. Just like Titan's watercraft, the MAXIEM is fast, rigid, and reliable. With a cutting envelope of 27 ft. 2 in. by 6 ft. 7 in., The MAXIEM 2080 cuts nearly any material with precision, making it ideal for a full-scale modern machine shop.
Once the waterjet was installed and the Titan team received preliminary training on how to use it, they got right to work. "We've gained speed in the fabrication of our vessels by being able to cut parts whenever needed," Michell described. "A vessel build takes the better part of 2-1/2 to 3 months. If we had to outsource our cutting that could add an additional 4 to 6 weeks. We also get much better precision in part production, which makes for a lot less scrap."
Titan often cuts 2 in. aluminum, then switches to 3 in. plastics or stacked rubber for gaskets. With the level of versatility the OMAX abrasive waterjet provides, Titan has ventured beyond boat fabrication. "With the addition of the waterjet, we're able to respond to slow times by increasing our capability to take on various other metal application projects to fill gaps," said Michell. "Having the waterjet aids our ability to diversify our business quickly in response to market changes." Now, Titan's waterjet operator can be cutting parts for aluminum-hulled watercraft one day, and architectural metal and glass the next.
These days, downtimes don't seem too common. Titan keeps their waterjet busy with all the projects they have in the queue. "Currently, we're working on some custom fabrication projects for SOI. We have three Titan 290 Pilot boats on the waterjet table for the police in Qatar, two brand new whale-watching models for Wild Whales in Vancouver, a few large Coast Guard vessels, a Titan 220 D-Tube for Quebec DFO and two Titan 249XL Raptors finishing up for the RCMP in Central Canada," said Michell. "We're also doing several retrofits to vessels that are over 10 years old, including two Titan 249XL Raptors for the LA County Sheriff's Department."
Next time you look out on the water and see an aluminum rigid-hull inflatable craft, it might be a Titan Boat made with an OMAX waterjet.