Customer Success: Manufacturing
Holly Yashi and the LightSail Project
OMAX abrasive waterjets have the ability to cut virtually anything, and that versatility means never having to turn down a job due to material restrictions. It also means a single waterjet can work across several different industries. For example, the same machine may cut jewelry one day and a part for an experimental space project the next. That is the case with Holly Yashi's OMAX 2652 JetMachining Center.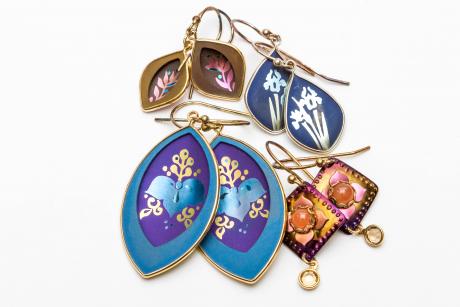 Founders Holly Hosterman and Paul "Yashi" Lubitz started Holly Yashi as way to showcase their combined passion for art in a financially viable way. Over the last 35 years, the company has grown from a one-car garage into a 15,000 square-foot facility with over 50 employees. Their whimsical and unique designs feature unconventional materials, including hypo-allergenic metals, Bohemian and dichroic glass, and Swarovski crystal pearls. One of the most exceptional materials Holly Yashi uses is Niobium, an extremely strong but remarkably lightweight metal with a chameleon-like capacity to retain a wide range of vibrant hues despite its natural dull grey color.
The company found great success over the years, with Holly Yashi products featured everywhere from retailers like Anthropologie and Sundance to tastemaking magazines like Modern Jeweler, Vogue and Good Housekeeping. The company's website, HollyYashi.com, also notes that celebrities, such as Bonnie Raitt and Sandra Oh, have worn the brand's jewelry in creative works seen across the country and around the world. But Holly Yashi's work goes far beyond jewelry – and beyond the world as we know it.
Meanwhile, the LightSail project is the latest attempt at making a solar sail, a large, rectangular and reflective "sail" that uses the momentum of photons from the sun to push spacecraft through space. The benefit of using photon momentum versus rocket fuel to travel is that photons don't run out and they don't weigh anything, thus circumventing the need for heavy, bulky fuel tanks. Funded by members of The Planetary Society and a $1.24 million Kickstarter campaign in 2015, the LightSail project has since succeeded in launching two experimental miniature CubeSat satellites featuring prototype LightSails with the help of numerous institutional partners, including NASA and SpaceX.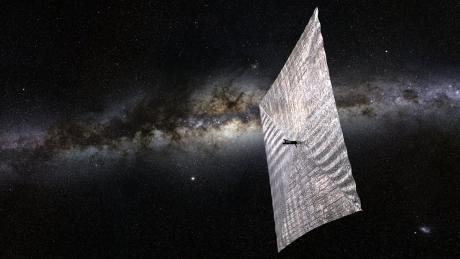 At first, Holly Yashi and the LightSail project seem to come from two different planets. What brought the jewelry maker into the highest levels of the aerospace industry? An abrasive waterjet.
The fashion industry is fickle and swift, which means the newest designs need to be completed and presented with the greatest attention to speed and quality. That's why Holly Yashi bought an OMAX 2652 in 2006. "We wanted to have unlimited artistic design and flexibility," said Lubitz. The ability to create, prototype, and produce at a moment's notice has helped Holly Yashi stay at the forefront of the industry.
The OMAX 2652 is a mid-sized cantilever-style machine. With a completely sealed and protected ball screw drive system, this robust and reliable workhorse is perfect for shops cutting high-precision workpieces with smaller dimensions. OMAX machines are currently being used to cut stone, brass, carbon steel, glass-refined plastics, and much more. With abrasive waterjet technology, the finished part has no heat-affected zones (HAZ) or material distortion, often removing the need for secondary machining.
Because of the flexibility of the OMAX 2652, Holly Yashi cuts far more than just jewelry. "We've cut glass. We've cut marble counter tops. We cut steel for jigs," said Lubitz. "We are crazy for jigs and fixtures." The company had the cutting capabilities the LightSail project needed, and after a short conversation, Holly Yashi was on the job, and soon had finished the aluminum side plate for the first LightSail prototype.
The LightSail 1 project launched on May 20th, 2015, from Cape Canaveral Air Force Station in Florida. There were some complications with communications and software, but the LightSail was deployed on June 3rd. Shortly after, LightSail 1 lost communications due to a fault in the battery system. After struggling through a few more issues, the project was considered a success and returned to Earth on June 14th, 2015.
And that is how a world-renowned jewelry company used an OMAX abrasive waterjet to become part of space exploration history.