Customer Success: Manufacturing
Dunphy's Cycles Machining Customizes with ProtoMAX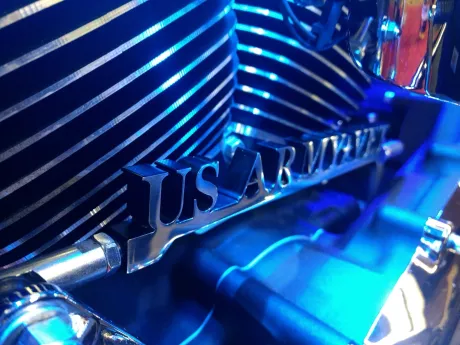 "Ever since I was 14 years old I was a gear head," says Dan Dunphy of Dunphy's Cycles Machining, LLC. "I almost have a sickness and can't drive a stock vehicle because I don't want to be like everyone else. It's boring."
"In 2016, I began to stay late at a local machine shop with a co-worker. They have an OMAX 2626® waterjet." Dunphy used the waterjet to make parts for his own 2016 Harley Davidson Street Glide Special. "I was making custom badges, shift linkages, and floor boards. I knew I had a money maker on my hands after some positive feedback and requests from people on the web."
"I wanted to make custom motorcycle parts but knew it would be too time consuming programming them for a CNC mill and lathe. The waterjet is so much faster and easy to program which is why it worked best for us." In 2018, Dunphy purchased a ProtoMAX® abrasive waterjet and started his own business, Dunphy's Cycles Machining. He affirms starting a business with his waterjet was "the best decision in my life I have ever made."
For a compact, personal waterjet, the ProtoMAX is the first high performance machine of its kind. Integrating cutting components and pump into a compact footprint makes the ProtoMAX ideal for small or space-constrained shops.
"The programming software for the ProtoMAX is so easy to learn, if you have general machining experience or use of CAD software," explains Dunphy. "We can simply load an image and adjust it as needed, where CAM software on CNC mills and lathes can get a little tricky and time consuming. Plus it's simple to draw up a part from scratch." The programming of part files and the cutting operation are controlled by a version of OMAX's own Intelli-MAX® software specifically designed for the ProtoMAX.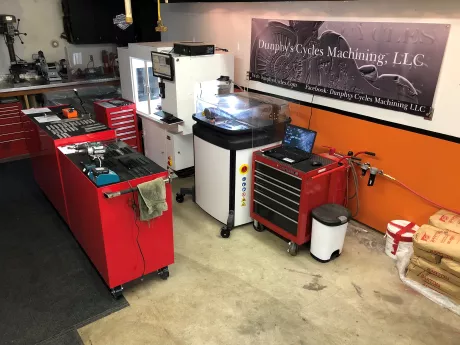 The shop utilizes several welders, a three-axis CNC mill, and the ProtoMAX abrasive waterjet to produce their custom parts. "We cut a lot of 6061 T6 aluminum ranging from 0.016 to 1.0 in. thickness. So far we have cut various thicknesses of A36 steel and plastics. There has not been one thing we haven't been able to cut on the waterjet yet," says Dunphy. Metal, glass, plastic and wood, the ProtoMAX cuts virtually any material under 1 inch thick. "The mill and waterjet work great together for making some pretty cool parts." Some of these 'cool parts' are showcased on Dunphycycles.com; however, the custom shop is just that, custom. With the ProtoMAX, Dunphy's can and will personalize any part for your bike.
Currently, the shop is creating display pieces for local Harley Davidson retailers as well as building a 2007 Harley Davidson Softail Deluxe as a way to show off the shops capabilities. With the added exposure and increased demand for customer bike parts, Dunphy's is starting to customizing pieces of Indian and Victory cycles as well. But that's not all, the shop has expanded beyond motorcycles into other customization as well. "We have made parts for gun jigs and are currently manufacturing parts for a local marine store here in Washington," states Dunphy. "Making parts for boats such as motor mounts, down riggers, etc."
"In the time we have been in business I've already seen people and companies trying to copy our parts using different CNC equipment." Abrasive waterjets and large CNC tools are typically something you don't see in makerspaces or with personal businesses due the high cost associated. In response, the ProtoMAX is a cost-effective answer to the waterjet/price question. Dunphy continues, "They are constantly asking us how they are made and what machines we are using. It will only be a matter of time until they figure out that we make our parts on a waterjet."
"Since purchasing it, I've been amazed by the support." In addition to live support, ProtoMAX users have a huge KnowledgeBase to consult and work from. From design ideas to understanding the mechanics of taper, KnowledgeBase is there. Dunphy says he "Definitely will be buying again from OMAX."
Dunphy's Cycle Machining is only starting to rev up. "We are growing rapidly and can't wait to see the things we are about to achieve in year number two in business all because of our waterjet."