Customer Success: Educational Institutions
ProtoMAX Inspires Tomorrow's Aerospace Fabricators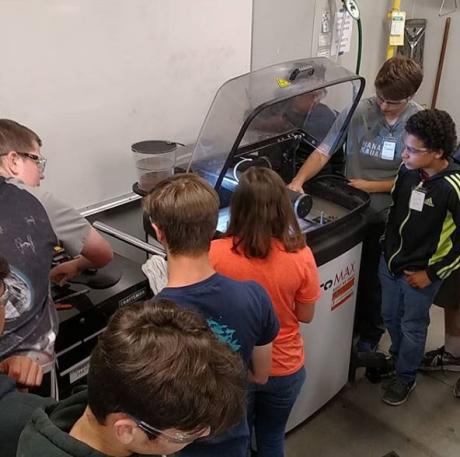 The Pierce County Skill Center (PCSC) in Puyallup, Washington has installed a ProtoMAX into their Aerospace Manufacturing and Fabrication program to facilitate accurate material cutting while showcasing design and advanced fabrication techniques. PCSC is a vocational training center teaching high school juniors and seniors  during the regular school year and 9th thru 12th grades during a three week introductory summer program in a wide range of hands-on professional experiences.
Starting in 2010, the skill center has been a hallmark of Pierce County serving the surround school districts. From fire science to pre-veterinary, students practice trades that will give them a glimpse into a career path. One of the prominent programs offered at PCSC is Aerospace Manufacturing and Fabricating. Being in close proximity to Boeing and McChord Air Force Base, the students of the South Puget Sound see the aerospace industry in their backyard nearly every day. Seattle isn't nicknamed Jet City for nothing. Needless to say, aerospace is a highly technical vocation (it is rocket science) and it's not always understood what it means as a career path. The program is a way to help students explore and experience what really goes into aerospace production.
In 2017, the Aerospace Manufacturing and Fabricating program purchased a ProtoMAX as a means to show material processing techniques in the aerospace industry. "Most of the students have seen the viral YouTube videos of phones and everyday objects being waterjet cut," said Brinton Trapp, Aerospace Machining and Fabrication Instructor at PCSC. "But they think it is cooler to create useful parts with it." By bringing advanced manufacturing techniques into the classroom, PCSC is not only sparking interest in the aerospace field, they are also providing a solid primer to the next generation of aerospace manufacturers. "Some of our industry partners are waterjet shops so students get introduced to waterjet cutting in school and it makes their training process easier at these companies," continued Trapp. "Having students become hands-on familiar with manufacturing processes is important in our curriculum."
"We use the ProtoMAX to cut parts that we can't make by hand or with our other machines," said Trapp. "We have a CNC plasma cutter, but it lacks the detail and accuracy. We also have a CO2 laser engraver but it can't cut metals. The ProtoMAX fills the void for being able to cut small parts with high precision on any material." Students use the waterjet to cut parts out of aluminum, steel, titanium and carbon fiber usually around 1/4th inch thick. Occasionally they have cut thicker materials for personal projects.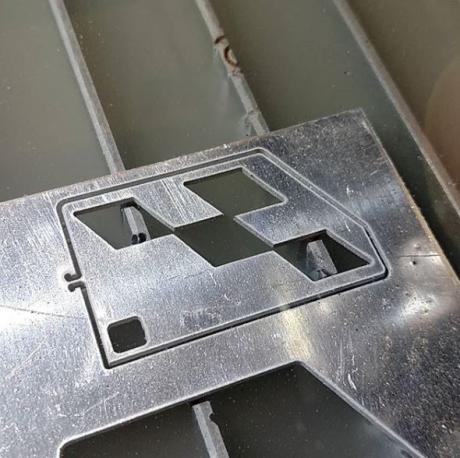 With unlimited software seats and an easy-to-use controller, the ProtoMAX is an ideal abrasive waterjet teaching tool. The ProtoMAX also integrates with Autodeck's Fusio360 software which is PCSC Aerospace Machining's Primary CAD/CAM software. The compact waterjet delivers 30,000 psi cutting power with a 5HP pump and will cut virtually any material under 1 in. thick with a 12 in. by 12 in. cutting area. The pump and cutting table are on casters for easy relocation. PCSC's Aerospace Manufacturing program hosts approximately 70 students per year, making safety and ease-of-use a chief concern when operating industrial machinery. With the clamshell cover and submerged cutting, the ProtoMAX is a safe and quiet (76 db) iteration of a light industrial machine.
"The class partners with numerous aerospace manufactures in the area to help train students for successful employment and post-secondary opportunities after high school," said Trapp. The program's partners include ThyssenKrupp, Boeing, Pegasus Northwest, and Exotic Metals as well as many others. Between technical manufacturing jobs on the rise plus the region's affinity for aerospace advancement, students in both high school and college are looking towards hands-on STEM-type programs to prepare them to be part of a future workforce. In PCSC's Aerospace Manufacturing program …"students get experience running CNC machines, producing products and the technical skills that are related (measurement, layout, inspection, lean manufacturing, and safety)," explained Trapp. "They also work on soft skills like communication, teamwork, responsibility, and following processes and procedures related to the manufacturing industry."
The Aerospace Manufacturing program likes their ProtoMAX so much that their sister program at PCSC, Aerospace Composites is looking into adding their own waterjet. Program like PCSC are becoming increasingly critical in a worldwide shifting manufacturing emphasis towards advanced techniques fabricating unconventional materials. The ProtoMAX will help to give the students of PCSC a leg up as they progress into their career paths.