Customer Success: Cutting Services
MATERIAM: Full Service Digital Manufacturing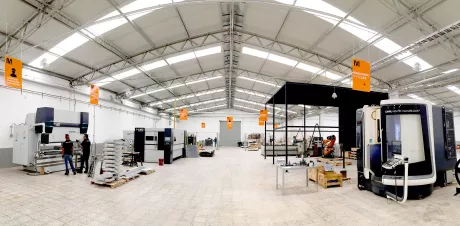 In Azcapotzalco, Mexico, there are few companies with the digital manufacturing capacities of MATERIAM. This job shop has and will take most any types of jobs coming in through the door. The energy sector, aerospace, electronics, medical … any company, any creator, any entrepreneur that may require their service. MATERIAM describes themselves as "a team of passionate people whose goal is to improve everyone's life through disruptive products. We build great products to solve your business problems." From prototyping to production, MATERIAM is a one-stop shop.
In 2015, Alphonso Tamés, CEO of MATERIAM, saw an opening in the industrial market for a full service digital manufacturing job shop that takes on fabrication projects from any service sector. MATERIAM grew quickly with a healthy dose of marketing, an eye for emerging industry trends, and the right tools to complete any job. Today they have 23 employees in a 3,600 m2 facility. Their list of machine tools is beyond impressive: fiber and CO2 lasers, CNC benders, routers, mills, and lathes, large format universal robot machining, 3D printers, automated measuring equipment, 3D scanners, and an OMAX 80X abrasive waterjet.
OMAX Corporation's 80X Series JetMachining Centers incorporate multiple table sizes and a customizable work envelope for precise abrasive waterjet cutting of large-scale components and multi-part projects. With OMAX waterjet technology, manufacturers can accomplish quick turnaround of accurate parts without the hassle of tool changes or complex fixturing, as well as achieve smooth surface finishes without the need for secondary machining. "Abrasive [waterjet] helps us offer what the market is looking for and give good quality at the finishing of the cutting piece," said Tamés.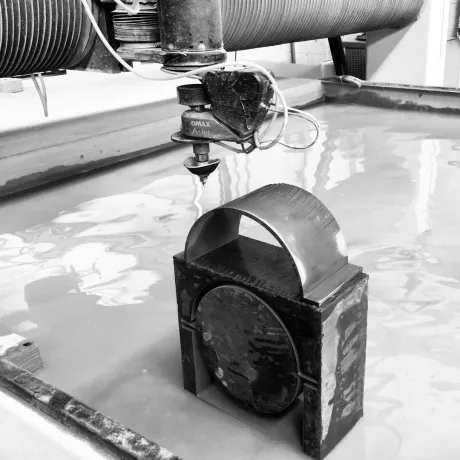 "Here, in Mexico, most of the companies that have waterjet technology use the abrasive waterjet technology for their own business requirements," said Tamés. There wasn't a lot of options for an entrepreneur or a small business who might need limited use of a waterjet or who are unsure what tools they may need to complete their job. By deciding to bring an abrasive waterjet into their shop, MATERIAM opened up another avenue of rapid manufacturing that mitigated time and cost. "We did a lot of research on alternatives, and we decided on OMAX, who has an authorized distributor in Mexico that could give us an immediate response to our needs for spare parts and maintenance."
MATERIAM further expanded their capabilities to handle a larger array of materials by adding an OMAX abrasive waterjet onto their shop floor. "We want to offer a greater versatility in cutting and machining of materials, to a wider market covering different sectors," explained Tamés. With an abrasive waterjet there is no heat-effected zones, making it ideal for pre-welding manufacturing. In addition, waterjet does not chip or scratch ceramic, stone, or glass like static saw tools might, making it ideal for intricate work. "We have cut materials like stone, marble, granite, quarry, cement, brick partition, asbestos, polymer cement, acrylic, glass, wood, metal blocks, engineering plastics, carpet, and so more – from 6 mm to 30 cm thicknesses."
MATERIAM doesn't just make it a point to ensure they have the most versatile cutting capabilities serving the widest range of clients, they also strive to be on the global forefront of manufacturing techniques and design. "Every week we have a look at other countries that are having events like Milan design week fairs about design, architecture, engineering and manufacturing to inspire ourselves and to be forward and aware what is coming about it," said Tamés. "So this helps us to be prepared, ready to show it at our social media, for example, to offer to our customers. Most of the time our customers come to see us as a place of inspiration – an innovation hub. We keep aware of trends from new materials, new designs and new ways of solving (manufacturing) those designs. We know that those trends will come to our country." Ceramic tables, interior design with volcanic stone, near-net cutting 4140 steel for specialty tools, are just some of the ways MATERIAM is using their 80X. On their social media sites they regularly post videos of the MATERIAM team showcasing new design projects as well as new materials.
The full service digital manufacturing shop may have it figured out. Ensuring they have the right tools for the job to meet the largest market available while keeping their eye on the horizon of fabrication practices has made for a great business model.