Customer Success: Cutting Services
Bu.Ge.Go. finds Reliability and Versatility with GlobalMAX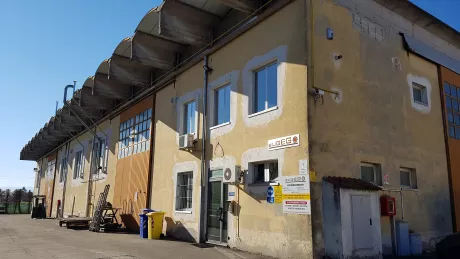 Outside of Parma, Italy, Bu.Ge.Go. is an eleven-employee, family-run business. Started in 1974, the company built equipment for dairies and stables. Over the years, Bu.Ge.Go. has morphed into a leader in surface finishing using micro shot peening and shot blasting on stainless steel, non-ferrous alloys, sand blasting on metals in general, industrial powder and liquid painting and corrosion-proof painting cycles.  Bu.Ge.Go. also specializes in the construction of solid/liquid separators for civil and/or industrial drains or originating in agro-food industries in general, from pig, cow, sheep, poultry and rabbit farms.
In 2018, the company started looking for a means to bring material cutting in-house to avoid outsourced cutting, waiting times, and limited control of a final product. "We needed a machine that allowed us to be independent from other suppliers and satisfy all our cutting needs for our equipment production," said Luca Buzzoni, partner and waterjet operator for Bu.Ge.Go. "At the beginning we thought about buying a laser. The cost (the laser it's much more expensive), the cutting material, and thickness range moved us in the waterjet direction." 
Bu.Ge.Go decided on going with a GlobalMAX® 1530. "It was the only alternative that allowed us to cut all type of materials, even with considerable thickness," explained Buzzoni. "Another aspect that, for us, was very important was the floor space requirement. We just appreciate the compact size of the machine. We also earn a better surface finish given by the 'cold cutting' of the waterjet technology." The GlobalMAX has since been utilized to construct rotating separators, screw press separators, and polypreparators for use in farming and ranching waste systems.
Like any fabrication shop, the more jobs you produce, the more money you bring in. That makes time an even more high-valued commodity. "Having an abrasive waterjet has allowed us to cut and ready a part for the next step in less time. We don't need to send cutting outside our company (and wait). We can respond faster," said Buzzoni. By bringing the cutting inside, Bu.Ge.Go is able to fulfil the needs to the water treatment and agriculture industry around Parma in an expeditious way helping to build the company's reputation as a reliable vendor. "Thanks to the feasibility (material and thickness) and the 'easy-to-use' aspects of waterjet we can do a lot of 'just-in-time' jobs or changes that require an emergency. It is a very practical machine."
OMAX® machines, like the GlobalMAX, are currently being used to cut stone, brass, carbon steel, glass-refined plastics, and so much more. Because of this, waterjet is a perfect tool for agri-food and water treatment fabricating where a fabricator may need to cut stainless one minute and rubber the next. "It helps us optimize production. We are changing the way to produce/concept the component of our equipment. Our goal is to continually evolve the quality of our equipment and, at the same time, make it a more simple/efficient way to produce," said Buzzoni. For example, an abrasive waterjet is capable of cutting an aluminum or stainless steel flange and then immediately cut the gasket to accompany it without any additional changes to hardware or machine setup.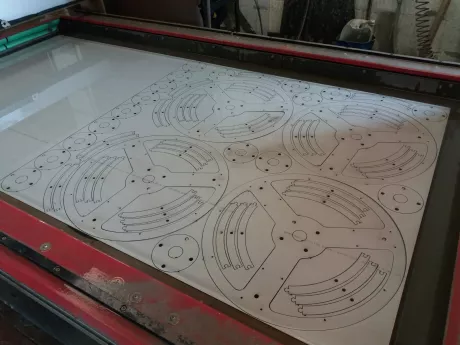 The GlobalMAX 1530 is a value-focused abrasive waterjet that can cut almost any material and a wide variety of thicknesses without any heat-affected zone. The GlobalMAX line was designed around simplicity and durability with a minimal overall footprint to give even more options to shops looking to add waterjet capabilities. The waterjet leverages the IntelliMAX® software, uses proven OMAX direct-drive pump technology, and is built and tested in Kent, Washington.
The added reliably and versatility that the GlobalMAX abrasive waterjet has brought to Bu.Ge.Go. has allowed them to take on additional contract work in painting, surface treatment, and waterjet cutting. The versatility of the GlobalMAX abrasive waterjet stems from the integration of OMAX's IntelliMAX software. With IntelliMAX, the operator enters the material type and thickness, then the software calculates and controls the cutting. The machinability is already factored in. Cutting marble tulips for decoration or foam inlays for shipping boxes, the abrasive waterjet is a single tool that allows for all sorts of unexpected possibilities.
For a final word on the subject, Buzzoni added, "Abrasive waterjet technology helps us stay competitive thanks to its flexibility."