Customer Success: Cutting Services
Big Blue Saw for On-Demand Cutting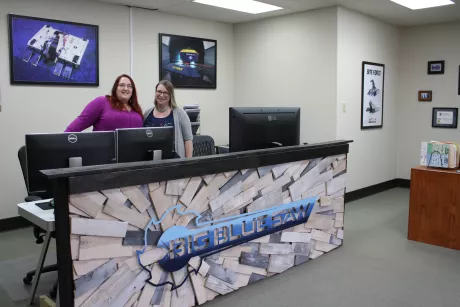 "Big Blue Saw has been selling waterjet cutting services since the company began in 2005," explained Simon Arthur, President and Founder of Big Blue Saw. "I had first learned about the flexibility and utility of waterjet cutting as a competitor at BattleBots, where the most advanced teams used waterjet-cut parts on their combat robots. While Big Blue Saw originally outsourced all waterjet cutting, we eventually brought that operation in-house for the best part quality and customer service."
BattleBots (an offshoot of Marc Thorpe's Robot Wars) is where inventors, fabricators and makers create deadly robots and battle them against each other in an arena. The level of robotic engineering involved varies from mundane RC-style vehicles to advanced units with articulating arms and variable speed motors controlling giant spinning saws. Like any other prototype robot, advanced manufacturing techniques and materials are employed.
Through the late 1990s and early 2000s, Arthur started constructing his own battle-ready robots. However, constructing a bot takes a lot of one-off pieces. There are no standard blueprints for these robots. "Often, I found myself reaching out to fabrication and machine shops to create the designs I had envisioned. Dealing with these types of business was incredibly unsatisfactory," said Arthur. "Their sales teams, such as they were, usually consisted of one surly fellow who seemed like he desperately wanted to be anywhere but his rusty office chair. I would find myself calling repeatedly to check on the status of an order or even just to get a quote. Email communication was non-existent. Most commonly, I found that they simply did not want to deal with a hobbyist ordering just a handful of parts."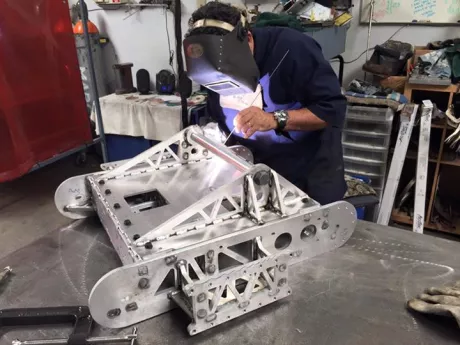 Frustrated dealing with jobs shops who didn't take his work seriously, Arthur opened Big Blue Saw in 2005. The company offers waterjet and laser cutting for all needs. "Based upon my experience building robots and my background developing software for the web, I decided I could make a website that made it easy for people to order high-quality parts online, custom-made to their specifications," Arthur explained. "There would be as little friction as possible in the ordering process, making it as easy to order one simple part as it is to order 1,000 complex ones. My eventual goal was, and still is, to allow engineers, artists, hobbyists, crafters, designers and makers of all kinds to turn a concept or idea into a real thing."
The website for Big Blue Saw offers a unique application rarely seen in the fabrication industry – a built-in online CAD program. Customers are encouraged to draw or upload their design right there. Arthur has even made it possible for potential customers to instantly receive a quote for their project.
When it was founded, Big Blue Saw didn't own an OMAX-brand waterjet. However, in early 2020, Arthur decided to add a MAXIEM 1530 to their shop floor. "My eventual goal was, and still is, to allow engineers, designers and makers of all kinds to turn a concept or idea into a real thing. Adding the new MAXIEM machine allows us to service much larger orders and expand beyond our base of customers into clients in new fields like logistics and energy," Arthur said.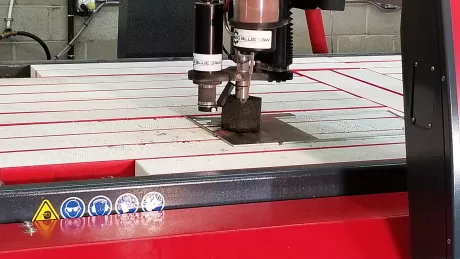 Designed for a wide range of machining needs, the MAXIEM 1530 sets a higher standard for precision abrasive waterjet machining. The rigid tank design is scaled to handle common plate sizes with room to spare. The advanced linear motion system uses digital linear encoders to provide instant micron-level cutting head position feedback to the controller to ensure accurate part production.
Arthur continued, "Our most popular materials are aluminum and stainless steel, plus polycarbonate plastic. Typical thicknesses range up to about half an inch, but we've been known to cut up to 1.5 inches. Our customers' requirements also include various other kinds of plastics, carbon steel, alloy steel, titanium and more."
What makes waterjet such a perfect tool for combat robots – and an endless variety of other parts made from virtually any material – is the technology's versatility. In robot construction, a potential customer may want to get a cover or structural piece made out of steel, carbon fiber, carbide, or any number of other materials that suit their end goals. This isn't unlike typical prototyping, where materials being cut range the full gamut of what is possible in part production. Innovation changes how and what we machine. With the versatility of an OMAX abrasive waterjet, Big Blue Saw is ready for whatever material happens to come in through the door.
"While we've made parts for just about every industry you can think of, a big chunk of our business comes from robotics, electronics, R&D and healthcare," said Arthur. "And we are most excited to have recently signed agreements with Microsoft, Eaton, and UPS approving us to serve these companies worldwide."