Tips & Tricks
Still in Washington State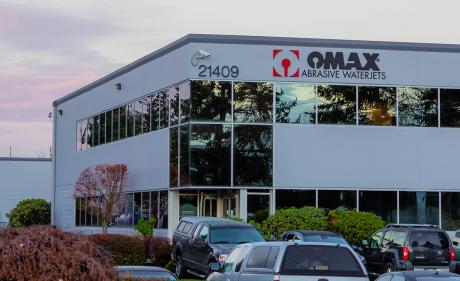 In 1993, OMAX Corp. started in Washington State. Twenty-five years later, OMAX is still there. This doesn't mean the headquarters is located in the Pacific Northwest and the production is spread to whatever country can make the product the cheapest, no. OMAX can proudly say that virtually everything they fabricate, construct, and program is done right at home.  
Today, OMAX Corp. employs over four hundred personnel, working in a 225,000 sq. ft. campus. A significant amount of their facility goes into R&D where they pioneer new innovations in abrasive waterjets.
Since everything OMAX builds is contained within a single campus, the company is able to ensure complete integration of all parts, software, and aftermarket support. At OMAX, drive systems are made only a few feet from the software designers who program them. Having the entire process in one location allows for seamless integration of hardware and software. The end result is a user experience that makes an intuitive high-quality machine tool.
OMAX's support staff is on site, as opposed to a call center half-way around the world. The OMAX customer service personnel is constantly trained on abrasive waterjet operations meaning that the person you are talking to on the phone knows how to operate and trouble shoot your machine. They aren't reading off a pre-written response matrix to give a canned response. The support staff works hand-in-hand with OMAX engineers so that if and when you do have an issue, you are getting the correct answer the first time.
If you have any questions about how OMAX abrasive waterjets are made, how support is handled, or how a waterjet can help your business, you can arrange to visit to our facility.
If you are unable to visit in person, check out our tour video on the company website.