Customer Success: Manufacturing
Waterjet Machining in the Shade with Tropical J's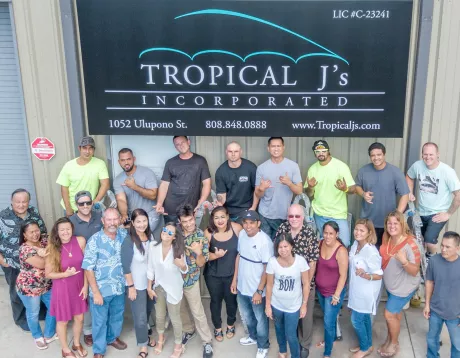 In Hawai'i, the transition from thunderous downpour to island heat takes only seconds. Whatever the weather, with the help of their MAXIEM® abrasive waterjet, Tropical J's is designing and crafting custom awnings for the Aloha State.
Tropical J's started in 1989 by designing hand-crafted, tropical-print, hand-held umbrellas. The company grew quickly to provide an entire array of quality awnings as well as other outdoor products. Today, with twenty-five employees and a 16,000 sq. ft. manufacturing floor, Tropical J's services the island's commercial and residential markets. "At any given time, we have 50 plus on-going projects from concept design, sales to manufacture, install, and recovers that are either uniquely our own, or are a vision presented from architects and other designers that they would like to see come to fruition," says Jordan Barnes who heads up the design and sales side of Tropical J's Incorporated. "Some of our most notable current projects include large scale suspension shade systems for an up-and-coming outdoor luxury mall that span over long corridors; as well as their independent store front awnings, market umbrellas, and furniture pieces to adorn the walkways."
Recently, using a MAXIEM 1530 abrasive waterjet, Tropical J's completely redesigned the awning and its supports for a sunshade on the USS Missouri. The USS Missouri is the Iowa-class battleship that saw the Japanese surrender to the United States on September 2, 1945, officially bringing the Second World War to a close. The battleship is currently moored at Battleship Row in Pearl Harbor as part of the memorial. "We're very proud and honored to have recently recovered the historic surrender deck of the USS Missouri for which we will be doing a presentation during the 2018 Industrial Fabrics Association International Expo this year," says Barnes.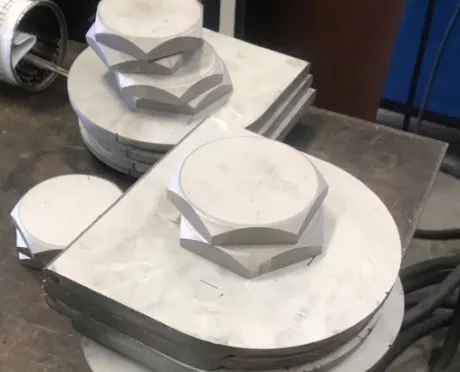 Tropical J's bought their abrasive waterjet in 2017 as a means of streamlining their business. "Hawai'i can feel like a small island, especially if your business model includes manufacturing," explains Barnes. "Having used a plasma cutting table for years, we were restricted by its material thickness capabilities, and the cut quality was laborious to clean up manually with grinders." Having to outsource thicker metals to job shops cost the company time and money. The solution was to integrate a MAXIEM 1530® with an A-Jet® cutting head and a 600 lbs. abrasive feed hopper into their shop. The MAXIEM provides an ample cutting envelope coupled with OMAX® ingenuity and power. The A-Jet accessory allows Tropical J's to produce beveled edges, angled sides, and countersink with no additional machining.
When Tropical J's bought their waterjet, they took advantage of OMAX's training. Training is located at OMAX's Kent, Washington campus and teaches you all the tips and tricks you'll need to be productive on your new machine. Barnes says, "It's a great investment and critical to understanding the maintenance and full capabilities of the machine."
"We design all our custom structures from scratch and have really started incorporating the artistic cutting possibilities into our framework. Our customers love the option of being unique and incorporating branding into their structures, whether it's motifs or logo work," say Barnes. With an abrasive waterjet, it doesn't matter if a customer asks for plastic, metal, or glass parts – you can do it all. It's this type of time-conscious versatility that has allowed Tropical J's to expand their reach even further, winning jobs like the USS Missouri. "We absolutely love the accuracy and tight tolerances that set us apart from the competition, with clean brackets, tabs, and plates. The freedom of having this technology at our fingertips has completely eliminated dangerous time delays in relying on others."
"Every day, we realize a new potential for ROI with our cutting capabilities," says Barnes. "Other local companies heard through the grapevine of our new setup and we started realizing a nice ROI on our purchase. We sell cut time like a commodity and aim to keep the machine running as often as possible."