Customer Success: Manufacturing
Light and Water: Waterjet Shapes Micro Diamond Surfaces

It is often touted that OMAX® abrasive waterjets can cut virtually anything. Sometimes it is surprising what that can really mean. DiamArt is using their OMAX 2626® to cut metal, glass, carbon fiber, PVB and fabric coated in micro diamond. The result is a customizable brilliant material refracting light through millions of facets. "We currently work on a diamond surface made of micro diamonds with GECI certification, thickness 0.15mm and a carat weight of 0.06 carats cm²," described Elisa Ferrari, Sales & Marketing Manager for DiamArt.
Based in Verona, Italy, DiamArt is part of a long diamond crafting lineage. Over forty years ago, Dellas S.p.A. started as a producer of diamond-tipped cutting blades and bits for the stone industry. Diamond-tipped tools are often essential in high-end stone work due to the hardness of the materials and the precision of the cutting. In 2013, Ferdiam S.r.l., DiamArt's parent company, started in 2013 as a spin-off of Dellas S.p.A. as a way to research new applications for diamond coated products. DiamArt is the most recent venture in the legacy; turning what the previous companies have learned about diamond in the industrial tool world into luxury applications.
DiamArt began their business without the aid of the OMAX abrasive waterjet. Not having an adequate cutting tool limited the shape of their finished products to simple geometrics. The OMAX 2626 changed that. "With OMAX waterjet we have moved from the regular standard geometries to any type of design and shape with the precision that we never could get before," said Ferrari. "It is the only technology that allows us to cut the material that we produce. The diamond surface is covered with diamonds of 0.15 mm. It creates this surface with diamonds positioned side by side. Since diamond is the hardest material in the world, only the waterjet machine can cut it."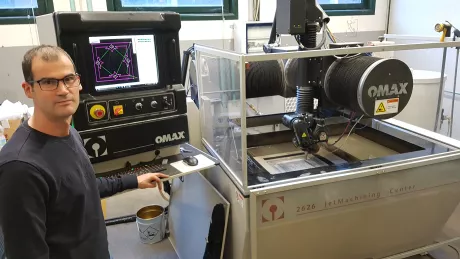 The OMAX 2626 is a high-precision waterjet machine often found in research labs, tech prototyping, and even aerospace facilities. The waterjet is fast and efficient utilizing optimized Intelli-MAX® software. The 7/15 Mini MAXJET® 5 Nozzle carries a thin powerful jetstream producing a kerf as small as .38mm. In addition, DiamArt opted to complement their machine with a Tilt-A-Jet® cutting head. The Tilt-A-Jet can position the nozzle at an angle calculated by the software to exactly offset the taper from the abrasive jet. And the company went even further by incorporating an OMAX custom glass enclosure around their waterjet to ensure micro diamond doesn't end up where it doesn't belong.  The whole package is geared towards cutting intricate patterns for parts cut on thin, exotic materials, such as gold … and even micro diamond. Ferrari added, "Our machine is particularly well equipped, it's a small machine. It has Tilt-A-Jet, the precision head for taper compensation and micro-cutting nozzle."
"For what we do, [OMAX 2626] is the only system that allows us to give a product with finishes of absolute exclusivity. Working this product with other systems would be impossible," said Ferrari. The micro diamond surfaces are specialized custom pieces. The abrasive waterjet enables DiamArt to customize each piece to exact parameters. From luxury yacht interiors to fashion accessories, everything DiamArt creates is unique. Some high-end boutique hotels have employed DiamArt to create one-of-a-kind signage, while other customers flaunt micro diamond inlayed handbags. "We work with the world of luxury, but its material has a very high value that allows us to access high-end luxury markets," said Ferrari. "Our target is for those looking for an elegant, refined and exclusive material. The product is transversal, it can be applied on all surfaces for design and furnishing, flooring and coverings, fashion accessories, artistic products." The sparkle that is achieved from the micro diamond surface is un-paralleled and the customization achieved with the OMAX 2626 allows for that sparkle to reach more avenues.
"The market is growing and luxurious," said Ferrari. DiamArt has seen huge expose at the Biennali D'Arte in Venice and at Milan Design Week adding to the buzz around such a distinctive product. As the demand for micro diamond surfaces grows, their OMAX 2626 will be working to shape the diamond surface. Ferrari continued, "We can approach the needs of the market that has more and more special requests, helped us in the customization flexibility of the product."