Customer Success: Manufacturing
Engineering Custom Safety Solutions with Ash Safety

"Our OMAX waterjet allows us to produce ratchet rings from brass bronze for our load arrestor blocks, high performance rockers for vintage motorcycle championships, as well as custom marine engine transom plates and other various bespoke fittings," said Andre Beard owner of Ash Safety. "Our APL Load Arrestors could hold rivet guns and tools with weights up to 800kgs each. Jaguar Land Rover used our APL's as there was no other device on the market that could fulfill their exact requirements. The introduction of these units has significantly increased safety."

Ash Safety's custom rockers. Started by being blanked out on the OMAX 2626, the finished ins secondary machining. The rockers were installed on at 1956 250 Royal Enfield Crusader that was prepared for the Vintage Motorcycle Club Historic Racing. The bike has won 4 national championships.
André worked for years in the shoring and safety sectors of the construction industry. In that time, André found much of the safety equipment in place didn't necessarily address the specific safety concerns. Often the standard safety equipment was antiquated only acting like a bandage to a real issue. André ventured out on his own and, in 2008, started Ash Safety (aka Ashfield Products). Ash Safety, a UK based company, employing twenty-two, specializes in hire, maintenance, repair and training of personal protective equipment, as well as other safety gear. In addition, the company customizes safety solutions to meet the desired parameters of their customers – addressing real safety concerns the right way. It is in this customization that the company utilizes their OMAX 2626 abrasive waterjet.

"The manufacture of products unique to the company in its own right has always been the main goal, and new products are constantly under development. Ash Safety usually take specifications from a client that has a particular issue which needs to be resolved. This is then studied and a concept prototype developed that will deliver the exact parameters that the client has requested with all the safety features ensured," explains André. The finished production is then either contracted out, or if the fabrication is within capacity, produced in-house at Ash Safety. There isn't much the company can't do with their well-equipped shop: the OMAX waterjet, a VMC, two CNC turning centers, manual lathe, a 300mm capacity ban saw, pillar drill, compressor, and a manual sheet metal folder.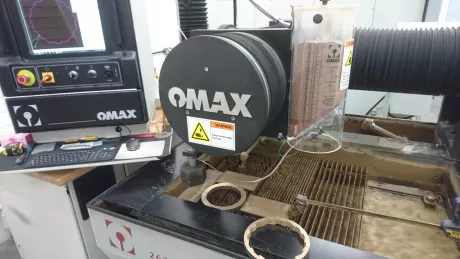 The OMAX 2626 is a fast, and precise cutting tool with the versatility to cut virtually any material. With a cutting envelope of 737mm x 660 mm, the waterjet is a perfect complement to a prototyping shop or a production floor where space is at a premium. Complement the waterjet with a 200 L abrasive hopper, like Ash Safety has, and the machine can cut for hours with minimal downtime. Ash Safety's 30hp EnduroMAX pump coupled with the 2626 is a simple yet robust pump that is specifically engineered to simplify maintenance through innovative features such as independent cylinders. The combination of cutting table, hopper, and pump are geared to increase uptime to accommodate hours upon hours of continual waterjet cutting.
But it's not just the mechanics of the machine that makes OMAX 2626 a useful tool. The Intelli-MAX software suite and an easy-to-learn, easy-to-use CAD/CAM program is specifically designed around the OMAX line of abrasive waterjets. André added, "The fact that the OMAX software is free for the life of the ownership with all the upgrades and the software is able to be loaded to any laptop that I own, has defiantly been a large deciding factor with OMAX."'
"Items made by Ashfield Products Ltd (Ash Safety) are now commonplace within the automotive, aerospace, and water industries in the UK. Certain products now also have agents worldwide and on this, the company hopes to expand," said André. Not only does the use of Ash Safety's OMAX allow them to reach into all sorts of industries, but since they are able to cut on demand there is no need to keep a warehouse fully of products. André explained the company is able "…to reduce stock holding costs and to produce stock as and when required with an end finish from machining."
Waterjet is one of the most (if not the most) versatile machine tools available. Mild steel, glass, stone, copper, foam, and so much more can be easily cut on a waterjet with little to no change to machine setup. Ash Safety has cut: CZ114 brass, bronze, 316 stainless steel, tool steel and Perspex. Their materials ranging in thicknesses of 2mm to 25mm. André added, "The fact that we could cut almost any material means that we did not have to adopt the usual thought process for the materials to be used." For an endless range of custom safety demands, Ash Safety is ready with solutions.