Customer Success: Manufacturing
Element Materials Relies on MAXIEM Waterjet for Perfect Sampling
It takes a competitive edge to stay in business for 190 years. With more than 100 locations around the world, Element Materials is a global provider of testing, inspection and certification services for a diverse range of materials and products. Its customers compete in sectors in which failure in service is not an option.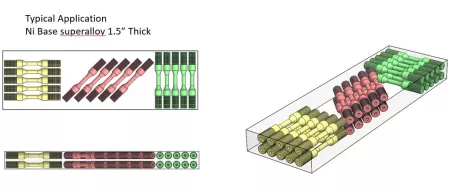 Originally formed from the in-house materials testing and product testing laboratories of the Netherlands-based Stork Engineering Group, Element can trace its testing pedigree back to 1827. "Although we're a relatively new name in the Global Testing, Inspection & Certification (TIC) sector, Element has a very long history and industrial heritage that we are justifiably proud of," said Tom Houtz, Manager of Production Operations for Element Materials.
When it became cost prohibitive to continue to outsource forging cut ups, Element brought waterjet cutting in house at its location in Fairfield, Ohio, in the form of a MAXIEM 1515 abrasive waterjet that delivers high performance in a compact package. With an ample cutting area that easily fits material stock, the 1515 is an excellent fit for fabrication and job shops. The highly efficient MAXIEM direct drive pump delivers the highest nozzle horsepower in the industry for faster, more-efficient cutting. The complete MAXIEM waterjet system includes the pump and the OMAX IntelliMAX software suite, which the company developed from the ground up specifically to support its hardware.
"By adding this waterjet, we have better control of turnaround time," Houtz explained. Like Element, manufacturers, forges and prototyping labs often bring abrasive waterjets onto their shop floors to speed up processes. "Being able to cut thru 6" of Ni Base alloy is a real game changer," he added, pointing out that "the MAXIEM makes quick work of it."
Houtz was amazed at the speed and performance of the MAXIEM. "The ease of cutting through metal so quick made a big difference for us." he said. "We didn't realize how much of an impact this would have on our turnaround time." At the same time, eliminating the need to outsource cutting streamlined Element's workflow and enhanced the shop's profitability.
Compared to other technologies, waterjets allow for quick ASTM testing, cutting coupons for applications including ASTM E9-19 compression testing, destructive testing, and cast porosity verification. Reliable test results depend on properly prepared test specimens, and improper preparation often results in unsatisfactory, incorrect results. Now that Element cuts coupons on a waterjet, the company can see much faster – and more correct – results that comply with ASTM standards.
Those standards require "that care be exercised in the preparation of specimens, particularly in the machining, to maximize precision and minimize bias in test results." Because abrasive waterjets use a cold cutting method that does not impart any additional effects on the cut material, forges such as Element can be assured that parts are ready to use when they come off the machine, free of heat-affected zones or flaws that require secondary processing.
In the past, outsourced coupon cutting meant delays in testing time that affected part shipments to customers or required rework based on non-conforming product lots. "Now that we have internal control over cutting a forging and don't need to outsource, we can offer low cost and reduced turnaround time for our clients," Tom Houtz noted.
With in-house production of testing coupons, Element Material can preserve the profit value of its workflow. Abrasive waterjets free shops like Element from the need to outsource critical parts and apply secondary processes. The flexibility of the technology makes it possible to handle a wide range of materials on a single machine, speeding critical operations and enabling shops to resolve workflow bottlenecks.