Customer Success: Manufacturing
Contemporary Jewelry by way of ProtoMAX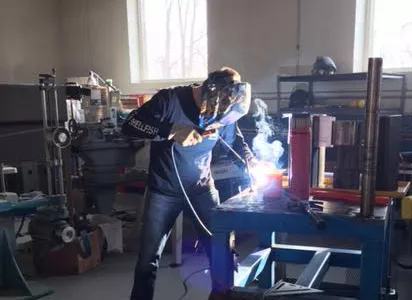 "The biggest benefit [of the ProtoMAX] has been the addition it brings to the creative process. By removing long waits for cut parts, we are able to bring products to market much more quickly. We can design and cut something in a fraction of the time we used to, allowing us to keep focused on the design we are trying to make," said Chris Ploof owner of Chris Ploof Designs.
Ploof had been working as a blacksmith when he decided to take a class in jewelry making. "I realized that while I loved creating anything in metal, I really liked working in the smaller scale of jewelry," said Ploof. He was hooked and in 1998, Ploof started Chris Ploof Designs currently located in Leominster, Massachusetts. Over the years, Chris Ploof Designs has grown into a 10,000 sq. ft. facility with seven employees focusing on handcrafting luxurious contemporary metal alternatives to traditional bands.
The company's website, www.chrisploof.com, states: "We forge meteorite iron with exquisite attention to its longevity, have adapted the strength and beauty of ancient sword making secrets into wearable, stainless Damascus steel, and we famously fuse luscious color combinations of gold, palladium, platinum and more in our Mokume Gane." It is because of this innovation of design and material that Ploof has been touted as an artisan and pioneer in the field of luxury contemporary metals. His designs can be found in retail jewelry stores around the world and have been featured in countless industry publications as well as NPR and CNN.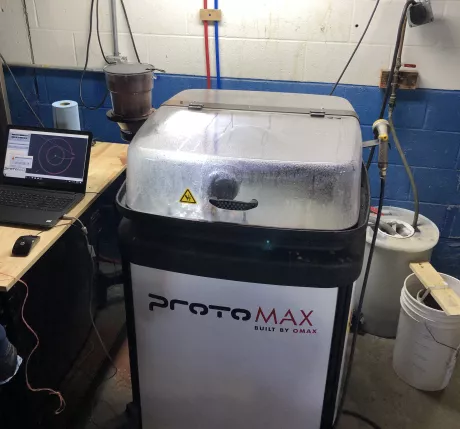 Previously, Chris Ploof Designs was outsourcing their material cutting work to third party vendors. This reliance on external processes didn't produce the quality the design studio was looking for. In 2018, the Chris Ploof Designs decided to bring its material cutting in house and added a ProtoMAX abrasive waterjet to their shop.  "We were using outside service providers, and the quality of the work was only ok," explained Ploof. "We wanted to bring it in house so we could produce high quality cuts without losing a few weeks from order to delivery."
The ProtoMAX is a compact, self-contained cutting system ideally suited for prototyping and low-volume cutting of almost any material approximately 1" thick. Bringing all the versatility benefits of large abrasive waterjet cutters together in a sleek and economic package, this machine is ideal for prototyping or as a complement to a larger machine shop. The ProtoMAX is a safe and ergonomic machine. Work material is submerged under water for quiet cutting that won't disrupt your work space. With the clamshell cover and submerged cutting, the ProtoMAX is safe and quiet (approx. 76 dB).
Ploof initially bought the waterjet as a way to cut 304/316 Damascus steel. However, he quickly started using the machine to cut a wide variety of materials for his designs. So far Ploof's waterjet has cut plastics, bone, wood, quartz, as well as other kinds of metals. The materials have ranged in thicknesses from .010" to .625".  "Currently," said Ploof, "a lot of jewelry seems to be long on looks and short on precious metals in some segments. The waterjet has enabled us to focus on using non-precious metals like our Damascus stainless steel to create pieces that look great and meet our goals for pricing."
Much of Chris Ploof Design's work is custom or one-of-a-kind. To maintain that sort of uniqueness on a marketable scale, production needs to utilize time as effectively as possible. "I love that we can easily go from a sketch to a prototype or a finished piece very quickly," said Ploof. "We can dream and do, no stalling while we slowly cut it out with a milling machine or wait for an outside service provider."
OMAX tried to get a peek at what the Chris Ploof Design studio was up to now. Ploof replied, "I'd love to be able to tell you, but……." We'll just have to keep an eye on how Ploof will be using his waterjet to achieve new innovation in luxury metal jewelry.