Customer Success: Manufacturing
Waterjet Expands Possibilities at Valve and Pipe Manufacturer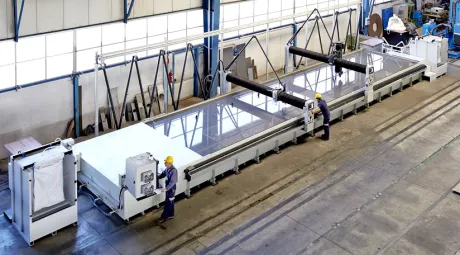 Nestled in province of Vicenza at the base of the Italian Alps, CEAP Srl has been producing valves and switches for over 40 years. Working with cast iron, stainless steel, and bronze, CEAP manufactures knife gate valves, 30-degree gate valves, rhomboidal passage valves, and 3- & 4-way deviators. Their products have uses in food, chemical, pharmaceutical, construction, petrochemical, and other applications. By providing customized products as well as small batches of valves, CEAP sets itself apart from the competition and caps it all with superior service.
Opportunity came in 1996 when Ottorino Dani purchased CEAP. Ottorino's son Andrea managed CEAP and with this relationship came an association with TUBISTEEL, a company managed by Ottorino with over 30 years of experience in large pipe manufacturing. "Where there are pipes, there are valves," Andrea notes, and close cooperation with TUBISTEEL producing pipes that measure up to 3.5 meters in diameter and lengths of 25 meters meant that CEAP could serve the needs of TUBISTEEL in production of pipes and produce custom valves. For nearly twenty years, this relationship proved successful for CEAP, allowing the company to grow and build its reputation for quality valves and service.
By 2014, that growth meant that much of the complicated or precision cutting was outsourced. To lower costs and eliminate delays, CEAP decided to bring these cutting operations in-house. With plasma systems and CNC machines already in-house, the company already had processes in place for cutting applications. The plasma systems were not precise enough and the CNC machines, while precise, were slower for part production. CEAP initially considered adding a laser to boost their capabilities, but like the plasma, a laser creates heat affected zones (HAZ) that would require secondary machining. The focus then shifted to abrasive waterjet, which is a cold cutting process with a smooth cut edge and is capable of 5-axis cutting.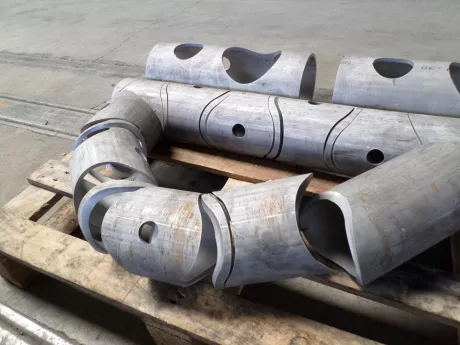 With the abrasive waterjet process selected, CEAP then turned to finding the right machine for their production. The answer was the DualBridge OMAX 120X JetMachining Center equipped with an A-Jet and a Tilt-A-Jet cutting heads, a Rotary Axis, and a 50 HP EnduroMAX pump. With the DualBridge, CEAP could cut two independent projects simultaneously on one machine, significantly improving productivity. The Tilt-A-Jet cutting head provides tight tolerances that CEAP uses for cutting valve components that are welded together without secondary operations, bringing in-house many parts that were previously outsourced. With the powerful combination of the multi-axis A-Jet cutting head and the Rotary Axis, CEAP is able to easily bevel-cut pipes for valve components or complex parts for any special tube that TUBISTEEL product, and scale that production for sizes ranging from 5 cm to 30 cm.
Like many manufacturers in the region, CEAP initially believed that abrasive waterjet technology was cost prohibitive for all but the largest of production environments. "We learned from ITEK, the OMAX distributor in Italy," says Andrea, "that the acquisition and operational costs could provide a reasonable return on investment." With their 120X churning out components in-house, CEAP is discovering just that, and while their initial goal was to support the production needs of TUBISTEEL, the company has expanded their business to serve local metal processing needs. With the easy-to-use OMAX Intelli-MAX software, simple and fast workpiece fixturing, and local applications support from ITEK, CEAP is able to maintain fast turnaround times, allowing them to deliver on their service promise to a broader audience.