Customer Success: Manufacturing
Ansaldo Nuclear upgraded manufacturing capabilities with a MAXIEM 3060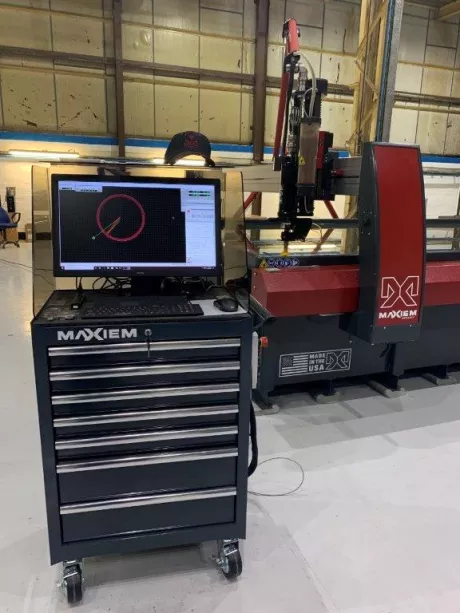 The leading provider of engineering, manufacturing and testing in the nuclear decommissioning, nuclear energy and defense industries, Ansaldo Energia Group maintains 3,500 employees worldwide and a £1.1 billion turnover. In the UK alone, Ansaldo Nuclear Ltd. employs more than 650 experienced suitably qualified and experienced personnel (SQEP) in the UK, including nuclear engineers and manufacturing specialists.
To maintain its position in the industry, the engineering department at Ansaldo Nuclear performs optioneering, developing concepts through to detail design, safety case support, design substantiation, peer reviews, feasibility studies, site surveys and various other reports. But to do all of this work, the manufacturing side of the company must be able to keep up.
In 2019, Phillip Heeley, project manager and improvement engineer at Ansaldo Nuclear, was tasked with updating the company's Wolverhampton manufacturing site with technology that would enable the cutting department to produce high-quality parts with quicker lead times. At the same time, Heeley sought to reduce the workload of the manufacturing site's milling machine operators by enabling the cutting specialists to create already inclined and beveled shapes out of flat raw materials.
Heeley concluded that a height sensor guiding a 3D cutting head would allow the machining of uneven material surfaces. Whatever the solution, it needed to allow the cutting department to prepare materials in a way that would avoid time-consuming alignments, clamping and manual rework on milling machines.
Aquajet Machining Systems, the Chorley-based UK OMAX distributor, suggested the perfect machine solution for Heeley's task – a MAXIEM 3060 JetMachining Center. A fast, smooth and exceptionally precise abrasive waterjet machining center, the MAXIEM 3060 is ideal for full-scale advanced manufacturing needs. The exclusive IntelliTRAX linear drive system uses magnetic encoders to provide location feedback with one-micron resolution so the machine knows precisely where the cutting head is at all times. The mobile control station with widescreen display provides flexibility in controller positioning.
Sue Learner, operations director of AquaJet, explained, "Ansaldo now owns one of the biggest 3D waterjet cutting systems in the UK. With the combination of a vast cutting envelope of 3,000 mm by 6,000 mm and a 60-degree bevel cutting head, Ansaldo is able now to realize nearly all cutting tasks, including thicker material, up to 150 mm."
Equipped with an A-Jet multi-axis cutting head, automatic terrain follower, rapid water level control and 50 hp direct-drive pump delivering 4100 bar pressure, the MAXIEM 3060 is a complete waterjet powerhouse. The system also includes a fully automatic 170 L garnet feed hopper and solid removal system to keep the machine's water tank clean and free from slurry and sediments.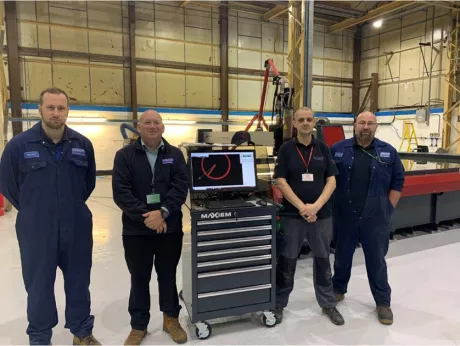 Andy Bull, operator and machining specialist at Ansaldo, praised the addition of the MAXIEM to the cutting department. "The new OMAX system replaces two older waterjet systems with intensifier pumps that we previously used. I am very happy that our management decided not only to replace the existing technology, but to upgrade our cutting department with the best waterjet cutting system available.
Particularly important to Ansaldo was the flexibility of the MAXIEM, which eliminated non-value-added time and allowed for the creation geometries that wouldn't otherwise be possible with the company's traditional CNC machines. "The water level can be raised and lowered within seconds and ensures that neither our employees nor our facility nor the machine itself will be harmed with dust, spreading water or noise," said Heeley.  The relatively clean manufacturing of an abrasive waterjet produces noise of approximately 76 dB – about the same as a household garbage disposal.
Tom Smethurst, CNC specialist at Ansaldo, added, "The OMAX IntelliMAX software that we use to modify the drawings and prepare the cutting programs – and that also runs the machine – is very easy to use and offers a wide range of features. That makes life much easy for us."
IntelliMAX is an all-in-one package CAD/CAM suite including LAYOUT (CAD) and MAKE (CAM). The software can control individual part features.  For example, the perimeter of a part could be cut at a faster cut-quality while more precise features within could be cut with a slower/finer quality, which enables various part tolerances to be met. Likewise, IntelliMAX's LAYOUT CAD program is a quick way to get mental geometry onto the computer screen – the drawing is easily and accurately exportable to CAM software.
With their new MAXIEM 3060, Ansaldo will continue to reform their shop practices to be more efficient. And with Aquajet providing continual support, Ansaldo's work toward achieving fully optimized processes will be supported for decades to come.