Customer Success: Educational Institutions
ProtoMAX waterjet helps heroes build better spaces for Philadelphia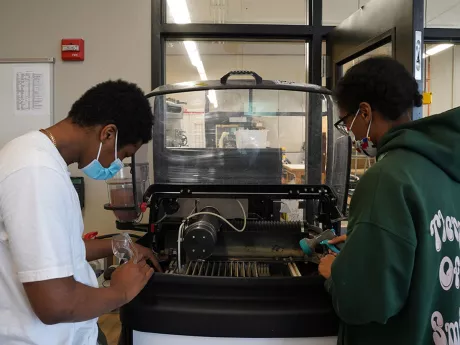 For nearly a decade, Philadelphia's Tiny WPA has transformed communities and lives. This nonprofit supports youth-led neighborhood revitalization projects and develops civic change agents, of all ages, by teaching people how to design and build small-scale projects for their community. Projects include building welcoming park benches, adventure playgrounds for kids, and sculptures for public meeting places.
Tiny WPA took inspiration from President Franklin D. Roosevelt's Works Progress Administration (WPA), the depression era workforce development program. It became an official nonprofit by 2014 and continues to build strong relationships with other organizations in Philadelphia.
Partnerships include helping schools start makerspaces or fabrication labs by assisting students and teachers with grant applications and helping them set-up and organize these facilities. Tiny WPA also has an eight-week training program called Building Heros, which teaches fabrication skills to anyone from community. Tiny WPA even hires these program graduates to do custom fabrication work for businesses, residents, and city agencies in an initiative they call Hero Fabrication.
One of the organization's newest projects highlights the work of the late Dox Thrash, a renowned African American artist who spent much of his life in Philadelphia. Tiny WPA was able to transform several of Thrash's works into laser-etchings, housed in steel frames cut with waterjet technology. Tiny WPA did not own a waterjet.
"As a small but growing nonprofit, we often lack the tools needed to realize everything we, or the communities we work with, envision," explained Tiny WPA co-founder Alex Gilliam.
Fortunately for the organization, Philadelphia's Science Leadership Academy already owned an OMAX ProtoMAX abrasive waterjet cutting system. Its compact design has a 12-inch by 12-inch cutting area, large enough to cut the picture frames housing the artist's drawings. This partnership not only saved money for the Tiny WPA group, but it reduced the project's production time by a third because they didn't have to send it to a job shop.
"We can now properly honor this amazing Black artist from the 1930s and '40s, and the students worked on a project that's having a positive impact on the community," Gilliam said.
The Dox Thrash project was the first time Tiny WPA used the ProtoMAX, but now that it's been discovered, there's plenty of work ahead. Gilliam shared they are doing more metal work, particularly around some groundbreaking workforce development and public space projects. He certainly hopes to use the school's OMAX waterjet more frequently and sees it as an opportunity to inspire more students.
"OMAX has definitely helped make [our projects] much more achievable," said Gilliam, "while we focus on growing a legion of young adults that are equipped with 21st-century design, fabrication, and entrepreneurship skills."