Customer Success: Educational Institutions
Fort Lewis College uses waterjet in unusual ways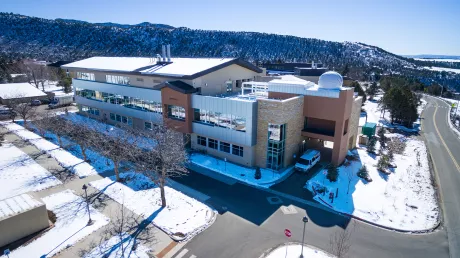 Students at the Department of Physics and Engineering at Fort Lewis College in Durango, Colorado, are learning how their education can help solve issues around the world. Recently, the program's seniors worked in unison with the Bhotia Foundation to reinvent a more-effective gristmill for the town of Chyamtang, Nepal.
"The goal of the gristmill project is to redesign the "stone age", hydro powered gristmill currently used throughout rural Nepal and incorporate modern, efficient mechanical systems," said Dr. Don May, PE. professor of engineering at Fort Lewis College. "Remote communities in Nepal are dependent on growing a variety of grains for subsistence living. The technology used to construct a village gristmill to grind grain (corn, millet, wheat, barley, etc.) into flour has been passed down through generations with little change."
"While these systems are quite ingenious, they are also horribly inefficient with low power input and long periods of down time when the available water flow just isn't enough to overcome inertia and friction," continued May.
The Department of Physics and Engineering lab utilizes a large swath of machine tools. Assistant professor, Devin Leahy, Ph.D., said "We have an extensive shop that includes a welding room, general fabrication shop, machine shop and a 3D-printing lab. In addition to our waterjet, equipment includes CNC and manual mills and lathes, MIG/TIG/gas welding, manual plasma cutter, polymer 3D-printers, composite hand layup tools, and other general woodworking and metalworking equipment."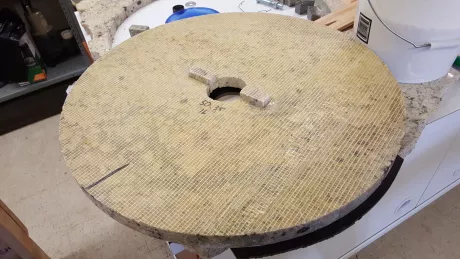 In 2018, the program added a MAXIEM 1515 abrasive waterjet to its already remarkable fabrication lab. The MAXIEM 1515 delivers high performance in a compact package. With an ample cutting area that easily accommodates material stock, the 1515 is an excellent fit for fabrication and job shops. The highly efficient MAXIEM direct drive pump delivers the highest nozzle horsepower in the industry for faster, more efficient cutting.
"If we can work with 2D components, the ease of programming and lack of tooling setup makes the waterjet dramatically faster and safer to use than our CNC mill or lathe. The abilities to cut extremely thin stock without chatter, or cut nonmetallic materials, are also huge benefits," explained Leahy. "Until we had the waterjet, only a few of our students were willing to put in the effort to learn CNC machining with our mill and lathe. The waterjet has been easier to use than we expected, and we are regularly impressed with the ability to accommodate very thick, thin, or nonmetallic materials."
"Working with a local foundation that promotes development in rural Nepal, the Fort Lewis College Engineering gristmill team has redesigned each component of the mill with the goal of improving power and efficiency to a level needed to provide year-round operation. To assure cultural acceptance of the redesigned mill by the users, the mills appearance and mode of operating were kept basically the same. Steel shafts, modern bearings improved hydraulics and an engineered turbine are all part of the revised system," described May.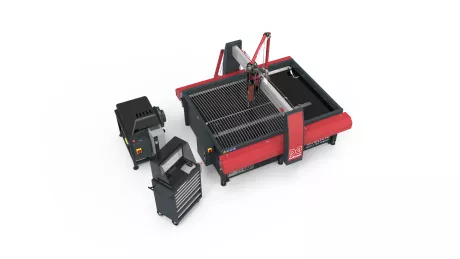 The 1515 cut the grinding stone, the center piece of the gristmill. "In Nepal, villagers will continue to provide the mill with grinding stones for use with the improved mill frame," said May. "To simulate this condition, it was necessary for us to fabricate our own grinding stones for laboratory testing. In lieu of using a hammer and chisel, we elected to cut the cylindrical stones plate from granite slabs using the waterjet. Based on measurements made by our NGO partner of the stones in Chyamtang, we cut a series of three identical stones, each with a center shaft hole and tee slot."
All OMAX abrasive waterjet systems can cut stone products of all types. Applications include quartz blanks for precision mirrors, inlaid marble flooring, decorative wall panels, stone sculptural pieces, when the need arises, granite gristmill stones.
Fort Lewis College's MAXIEM does more than cutting the granite. Uses for the cold-cutting, easy-to-use waterjet are exponential. Waterjet can cut nearly any material available and Fort Lewis College is proving that. "Beyond the gristmill granite, the waterjet has already been used to create several other student projects, including a robot and, a half-scale airplane, and has provided a great deal of test coupons for a material testing class," said Leahy.