Customer Success: Cutting Services
Metal Cutting Service Increases Precision and Profits by Adding Waterj
For JACQUET Italtaglio, saying "yes" to a request for custom cut thick stainless steel parts with tight tolerances and a fast turnaround time is part of everyday operations. That's because the metal cutting service center in Carré, Italy incorporated an OMAX 80X abrasive waterjet with a Tilt-A-Jet cutting head into their machine inventory.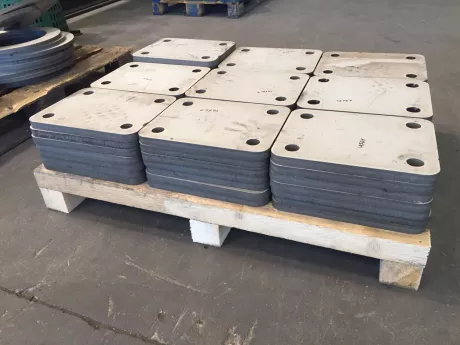 JACQUET Italtaglio is part of the JACQUET Metal Service Group with more than 100 distribution facilities all over the world. JACQUET specializes in carrying a large inventory of stainless steel and nickel alloy plates in a wide range of thicknesses. The list of industries JACQUET serves is just as wide-ranging, including oil and gas, hydroelectric, pollution control systems, water treatment, construction, and agriculture.
The Carré facility opened in 2007 and initially offered custom cutting of their material with their laser and plasma cutters. While the laser cutters could produce tight tolerances in thin sheets, it wasn't possible in the thicker materials. The plasma cutters could cut material up to 120 mm (4.7 inches) thick, but the heat-affected zone (HAZ) on the plasma cut parts was large and required a finishing process to remove a layer of the heat-affected edge to attain tight tolerances. The cleanup on plasma cut jobs added labor costs to proposals which prevented them from offering competitive prices. To remain competitive and offer cutting services in the full spectrum of material thicknesses they carried, JACQUET Italtaglio needed a solution. Managing Director Giorgio Ventura knew that solution was waterjet cutting capability. Waterjets can cut tight tolerance parts from thick or thin material without using heat, so there's no HAZ and often no need for secondary finishing operations.
Outsourcing work to a waterjet shop would add lead time and expense to cutting jobs and they wouldn't have immediate control over quality, so Ventura started doing his homework to find the machine that would best meet his company's needs. Ventura says, "I chose an OMAX waterjet after comparing the results from actual tests done on different brand machines. OMAX proved to be much faster and more efficient than the competition. We got the same part quality from each machine, but the OMAX cut it in much less time."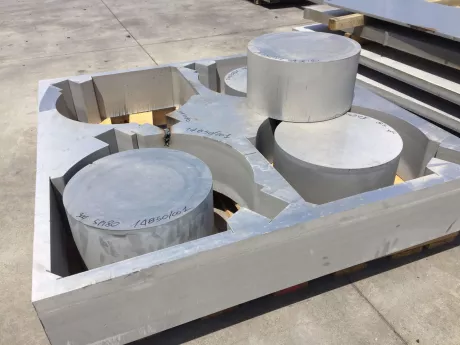 JACQUET needed a large table machine because of the large plate sizes they carry, so they purchased an OMAX 80X abrasive waterjet with a cutting envelope of 4 x 2 meters (13 ft 4 in x 6 ft 8 in). To ensure the highest precision cut without slowing down cutting speed, they fit the machine with a Tilt-A-Jet cutting head. The Tilt-A-Jet eliminates taper by tilting to the side, and tilts forward to compensate for the jet stream lag, so there's no need to slow down. All this is done automatically by the machine's software. The operator simply imports the part file, enters material type, thickness, and edge quality and the software does the rest.
The in-house waterjet capabilities are paying off for the company. "The waterjet has helped increase the profit margin for the business," explains Ventura. "Now I can offer my customers tighter tolerances, even for very thick parts. Parts cut on the waterjet machine have clean edges that often don't require secondary finishing work. That saves a lot of machining time compared to plasma cutting. The narrow kerf means I can use more of the material. I can pass that savings along to customers, offering competitive rates and still make a good profit."
Ventura says the introduction of waterjet cutting service from his well-established company has increased customers' awareness of the benefits of waterjet cutting and as a result, the demand for waterjet cut parts has increased. The overall volume of orders has increased, so there's still plenty of work to keep all the machines busy. At JACQUET Italtaglio, the OMAX waterjet works as the perfect complement to the more traditional cutting methods.