Customer Success: Cutting Services
CTS Waterjets, LLC - A Family Business with a Family of Waterjets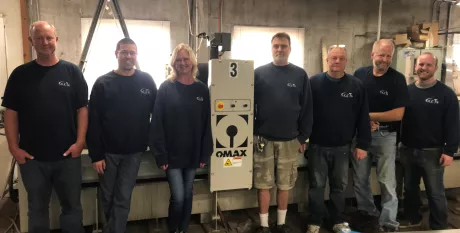 "We went with OMAX because of the customer support, and we wanted to buy American-made," said Ben Goldschmidt the Waterjet Cutting Operator at C.T.S. Waterjet LLC.
Brothers, Steve and Jim Goldschmidt, both learned the tool grinding trade before striking out on their own. The brothers started Cincinnati Tool Sharpening. For seven years, the shop focused on manufacturing for the machine industry in and around Cincinnati, OH. The shop grew, but hit a wall with their capabilities. "We felt that we took tool grinding as far as we wanted," discussed Goldschmidt. "We were going to buy a CNC tool grinder, but we felt we needed to break into another market."
The brothers bought their first OMAX 55100 JetMachining Center in 2008. Cincinnati Tool Sharpening added a 40HP direct-drive pump and a Tilt-A-Jet with a Precision Optical Locator to their new abrasive waterjet. The OMAX 55100 is the largest of the OMAX cantilever-style machines. With a completely sealed and protected ball screw drive system, the OMAX 55100 is a robust and reliable workhorse for shops using larger stock.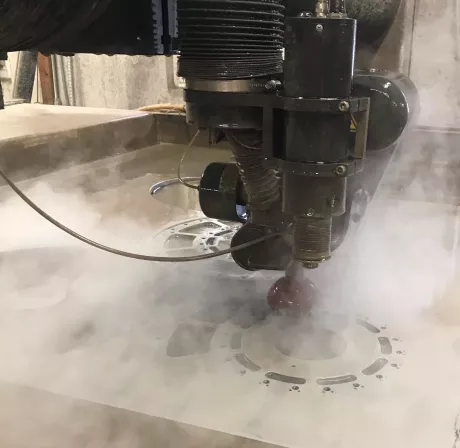 "We got our first machine to expand on our machining business," explains Goldschmidt. "And it quickly took over the lion's share." In 2014, the company bought a second OMAX 55100 to accommodate their growing waterjet business. This time they added a 600lb abrasive hopper for extra-long cuts as well as a more powerful 50HP pump.
Steve and Jim's machine shop shifted to focus on waterjet machining. They changed the name from Cincinnati Tool Sharpening to C.T.S.-Waterjet, LLC. Goldschmidt said the change represented "is a nod to our roots but keeping our eyes on the future."
CTS is a true American family business. The brothers, Steve and Jim, own and operate the business. Laura Schmidt, Steve and Jim's sister, is the office manager and bookkeeper. Plus Ben Goldschmidt, a waterjet operator, is Laura's son, Steve and Jim's nephew.
In 2018, C.T.S. bought a third machine. This time they went with a bigger cutting envelope and opted for an OMAX 60120. The OMAX 60120 JetMachining Center is the smallest of OMAX bridge-style waterjet machines, but it has a table big enough for larger stock, over 5' by 10'. Their third machine championed the versatility as the previous OMAX 55100s, keeping a similar configuration that C.T.S. had become known for.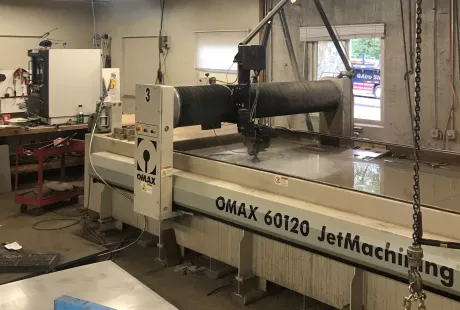 Having moved beyond tool sharpening while fully committing to the art of waterjet cutting, CTS has broken into diverse markets as well as avenues they never thought possible years ago. "We serve all types of clients in a wide range of industries. Aerospace, automotive, even food processing," states Goldschmidt. "You name it. We've got parts in space, in Australia, and in some animatrons."
With three machines and a high standard of waterjet machining credibility, C.T.S. has been able to make a name for themselves by making quick work of custom cutting. "A lot of our customers come to us because we're able to turn critical jobs around fast. Some of that has to do with being a smaller shop, but a lot of it is because the waterjet can cut quickly," said Goldschmidt. The shop primarily cuts aluminum, steel, and titanium, but also sees rubber and composites regularly. One of the major benefits of abrasive waterjet is that it can cut virtually any material and at some point in the last 10 years CTS has cut it all.