Customer Success: Cutting Services
Component manufacturing - Sleek and Economical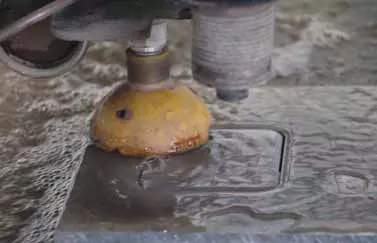 Werkzeug-Komponenten-Fertigung GmbH Sachsen (WKFS) primarily uses CNC machine tools to manufacture components for tools, fixtures and machine construction. For several years now, a powerful OMAX JetMachining 60120 waterjet system from OMAX distributor INNOMAX AG has been adding to the company's machining portfolio - for reasons of better cost-effectiveness and higher quality in terms of process reliability.
Those in charge at WKFS in Wilkau-Haßlau see their company as an ideal addition for tool, mold and machine builders: "In our portfolio, we primarily have large machines that the tool and machine builders usually do not use in their shops," explains Ulf Seifert, one of the two managing partners. "The division of labor between the tool, mold and mechanical engineering companies makes sense – we manufacture large components for customers throughout Germany and Europe on schedule, at fair prices and in high quality. And our customers can concentrate on what their core competencies. "
For around 20 years, the machinists at WKFS have been producing parts for a wide variety of industries. "We do pure one-off production; the same part rarely comes out twice," explains Seifert. "For example, we can manufacture milled parts up to 3 x 7 meters with piece weights of 50 tons, and we can machine workpieces up to 4 meter in diameter using vertical turning. Among other things, we also manufacture complete tool racks, such as those used for punching tool construction, for example."
For Seifert and his co-partner Günther Tölle, it is important to be precise in selecting the best possible processes that will achieve the best results, both economically and technologically, for the respective applications. "That is why we extended our technology chain to include waterjet cutting three years ago. We purchased an OMAX JetMachining 60120 system from INNOMAX," explains Seifert. "As a supplier of complete tool racks, we have made a significant leap in quality with this system."
The break-throughs in the tool plates were previously created by means of plasma cutting. However, this technology is often too imprecise, especially for guide plates, so they had to be re-milled at great expense.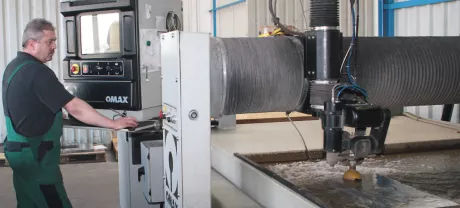 "This post-processing can now be completely omitted. With the OMAX system, we have finished openings that correspond to the high quality that our customers expect from us," explains Seifert. "In addition, we no longer have to expose the panels to the risk of thermal distortion. And that's a big plus in terms of precision. "
The OMAX JetMachining 60120 processes, among other things, aluminum plates and various tool steels, including pre-hardened steels such as 1.2312. But other materials are also no problem for waterjet cutting – from metals to rocks to organic materials, almost all materials can be cut very precisely with this process. "The intermediate plates are usually around 40 to 50 millimeters thick," reports Seifert. "The challenge we face every day is creating very complex openings with the smallest possible corner radii."
Here, however, the physics of the waterjet sets limits – but with a few tricks, the manufacturer, OMAX, succeeds in using the laws of nature for its users' benefit. For example, the thicker a plate to be cut, the more the waterjet is constricted. In order to still guarantee an exactly right-angled cut, the OMAX Tilt-A-Jet® swivel head enables inclination angles of up to 9° – enough to reliably realize a straight cut with an accuracy of up to five hundredths of a millimeter, depending on the material and sheet thickness.
Precise bevels
Pivoting the head also enables slightly conical cuts. "This is particularly advantageous, especially for those openings in the tool through which sheet metal parts will fall through later," adds Seifert. "Here, very precise bevels of 2° to 3° can be implemented, which guarantees that parts drop safely." The waterjet technology can also play its trump card when tools are changed – openings can also be made in the panels later without any problems such as hardening (especially with steels with a high carbon content) or the distortion that occurs during plasma cutting and requires reworking that must be taken into account.
Sheet metal up to 1.5 x 3 meters can be cut on the OMAX JetMachining 60120 large-format machine, and the system can handle component weights of up to 6 tons. "The direct-drive pump can manage up to 4150 bar, but with our cuts in continuous operation, around 3800 bar is completely sufficient," explains Seifert. "If you don't go to the limit, you will significantly reduce wear."
In metal, cuts are made with sharp-edged abrasive garnet that is added to the water, The cut surfaces therefore look like they have been sandblasted and often require no further treatment.
"The OMAX waterjet system impressed us with its high availability," emphasizes Seifert. "Only wearing parts have to be replaced. The service is also very fast and competent." Another plus for Seifert is the sophisticated software: "Volume models from almost all CAD/CAM systems can be imported here," he adds. "The software ensures an optimized cutting model – this is how we achieve optimal results quickly and reliably."