Customer Success: Cutting Services
Beautiful Craftsmanship in the heart of Romania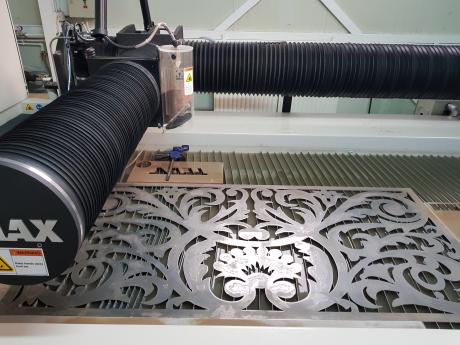 The story of LERA Srl is one of constant growth and adaptation in pursuit of a competitive edge since the shop's founding. "The company started its textile service business in a rented space," said Sorin Lecusescu, LERA's general director. "In 1996, LERA built two production spaces and a headquarter located in Dumbrava Roșie, Neamț County, Romania. Along with the construction of our workshops, our activities expanded from service to production."
For several years LERA kept growing, adding new tools and techniques to their production floor. With a mill, lathe, steel sheet shear equipment, welding machine, powder coating system, CNC pipe bending machine, LERA could increase the size of its customer base and expand into new industries. "In 2007, the company started investing for new equipment and technology in order to be adapted to the new market conditions," said Lecusescu.
Initially focused on maintaining machines for the textile industry, the business soon turned to home and garden decorations as well as finished products for the food processing industry. Over time, LERA became a full-service fabrication shop that specializes in custom handrails, balconies, stairs, and other architectural accents. However, that's not all it does; LERA also offers its services to companies in automotive fabrication and construction industries, among others.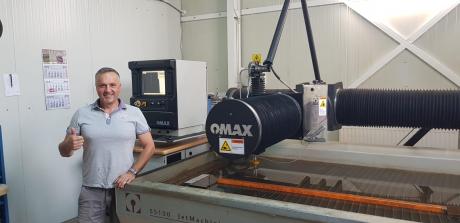 In 2018, LERA added an OMAX 55100 JetMachining Center to its shop. Purchasing a waterjet has allowed for faster production times and more accurate cutting. LERA uses their OMAX 55100 to machine stainless steel, aluminum, brass, steel, stone, glass, wood and nearly anything else that might be requested of the company. The OMAX 55100 JetMachining Center is the largest of OMAX's cantilever-style machines. With a completely sealed and protected ball screw drive system, the OMAX 55100 is a robust and reliable workhorse for shops using larger stock.
Before the waterjet, most of the work LERA was done on traditional machines without numerical control – a method that requires experienced staff and a significant amount of additional time. Today, the company credits the waterjet for giving it an edge over the competition because it provides a superior process in terms of both speed and quality without the addition of heat-affected zones. Lecusescu explains that the OMAX waterjet helps LERA to "acquire new customers in new markets with better and faster production. We are able to reduce the production cost and develop new products."
For even greater versatility, LERA added the optional Terrain Follower accessory to its waterjet. The OMAX Terrain Follower allows a JetMachining Center to automatically cut parts from materials with irregular or warped surfaces without the need for special programming. Because some of the materials the shop cuts are provided by the customers, it uses the Terrain Follower to cut uneven materials and prevent nozzle collisions during cutting.
LERA is also a job shop, taking care of any request that comes through the door. And with its waterjet – a technology used by few in the region – LERA earned a reputation in Neamț County for its response time and the quality of its products, including its cutting services for special parts.
"If I will need another waterjet," said Lecusescu, "I will definitely buy an OMAX."