Tips & Tricks
OMAX Helps Electric Vehicle Manufacturing Lighten Up
Because of the materials involved in electric vehicle (EV) production, manufacturers have learned to rely on the unique flexibility, precision and versatility that abrasive waterjets offer. What other cutting technology can move from inches-thick steel and aluminum to plastic, foam rubber and carbon fiber – without changing a cutting head? Only waterjets can master all these materials and so many more. As a result, abrasive waterjets are essential technology for EV companies.
Especially in the San Francisco Bay area, where many of these manufacturers locate production and R&D facilities, abrasive waterjets play a frontline role in achieving one of the industry's foremost goals: Make vehicles as light as possible to offset battery weight. While EVs may lack the traditional bulk of internal-combustion engines and transmissions, their battery cells add considerable heft. The batteries are heavy, and manufacturers need to use alternative materials wherever they can to make up for that weight. Waterjets really thrive in applications that don't use metal all the time," OMAX Regional Sales Manager, Kylie Keener pointed out.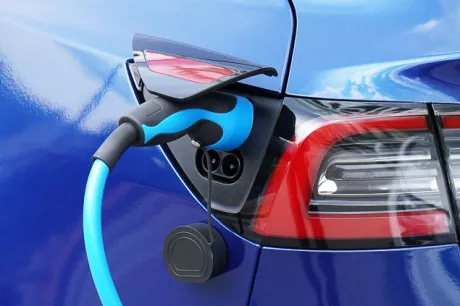 Carbon fiber is also used for parts help lighten the load. Abrasive waterjets can cut this complex material more efficiently than other technologies can – without creating heat-affected zones, which carbon fiber cannot tolerate. "Many of these new materials simply can't be cut effectively on anything besides a waterjet," Keener added.
For optimal cutting at environmental capacity, EV shops add several accessories to protect their OMAX machines as well as their part quality. Some of their cuts can run for as long as 10 hours, so these shops typically opt for the OMAX Bulk Abrasive Delivery System, a tank enhancement that can hold 100, 600 or 2,200 lbs of garnet up to 20 feet away from the machine. This accessory often pairs with a Solids Removal System to simplify clearing the tank of spent abrasive.
To maintain the right water temperature in areas where the supply tends to run warm, shops add the OMAX Chiller, which uses environmentally friendly refrigerant to optimize inlet temperature and extend the life of pump seals. A Reverse Osmosis System filters out mineral solids to eliminate pretreatment and deliver proper purity.
Other accessories specifically optimize the cut itself. For complex materials such as carbon fiber and special part features that could be challenging to cut from uneven surfaces, the Collision Sensing Terrain Follower automatically compensates for height changes. Drills expand waterjet capabilities beyond pure cutting, and additional cutting heads add more axes, eliminate taper and cut complex shapes.
In short, abrasive waterjets enable EV manufacturers and the job shops that supply them to operate with a flexibility and versatility that takes on added value now that production includes more than metal. Along with the right technology to manufacture parts and quickly test out R&D concepts, OMAX offers these shops two things that make their operations easier: experience and availability.
Throughout nearly three decades, OMAX has specialized in making the right technology to tackle innovative projects. EV manufacturers can tap into our in-depth knowledge of the types of materials they cut so they can find the right solutions quickly. Not only can we help shops optimize their processes quickly, but we can provide them with new hardware just as quickly and efficiently. As a U.S. manufacturer who makes our own machines onsite at our Washington headquarters, we can deliver new machines to customers with a typical lead time of 4-6 weeks – and on the West Coast, that timeframe can drop to under a week.
For speed, accuracy, material versatility, low environmental footprint and responsive production, abrasive waterjets can replace hand fabrication, prototype new parts quickly and move into production roles. In the EV industry, waterjets have earned respect for their ability to produce great results on virtually any cutting task. "Our EV customers really value the flexibility that waterjet cutting gives them," Keener noted. In this challenging industry, waterjets have earned respect for their ability to produce great results on virtually any cutting task.