News Articles
Compact Cutting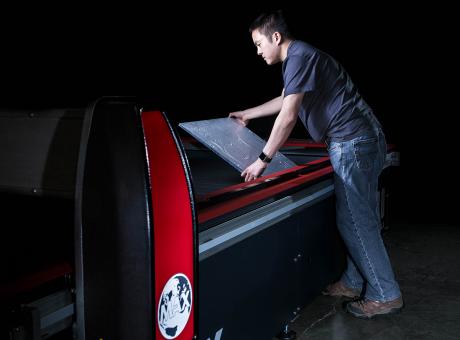 Waterjets are an investment, not only in cost, but in shop floor space. Machine shops often utilize mills, lathes, multi-axis machine centers, grinders, EDM machines and precision hones. The goal of any shop is to add value to a product through the manufacturing process. A shop only has so much floor space to work with, and choosing the right tools to maximize efficiency is an art. Potential waterjet owner who are familiar with large abrasive waterjets may be skeptical about how one of these machines will fit into their facility, and wonder whether the benefits outweigh the cost and learning curve.
The OMAX Corporation's GlobalMAX 1508 JetMachining Center can offer a happy alternative to traditional large bulky waterjets. Designed for anyone who needs an economical industrial abrasive waterjet, the GlobalMAX provides precision abrasive waterjet technology at a price point that won't break the bank and in a footprint that won't take over too much of a shop's floor space. 
But prospective customers don't have to take OMAX's word for it. Ernie's Welding and Fabrication as well as i3 Product Design both use the GlobalMAX 1508, and the owners of both shops can point to the advantages they have gained from adding an abrasive waterjet to their production lines.
Read full article