News Articles
The Art of Waterjet Cutting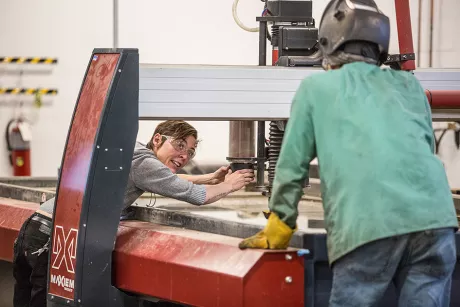 You wouldn't think a story involving conceptual art and a university-based maker space would have a lot to do with metal fabricating, but you'd be wrong in this one instance. In fact, if your shop has ever thought about expanding its cutting capabilities with a waterjet, you might want to keep reading.
The story begins in 2016 when the University of North Carolina-Asheville's engineering department was in dire need of an expanded workshop. It had only about 1,500 square feet stocked with old metalworking equipment, and the program was expanding, accommodating more students interested in the school's mechatronics curriculum. University administrators recognized the challenge, but also saw an opportunity to address another situation. The art department needed an expanded work area as well, so officials suggested creating a "maker's space," where engineering and art students could work side by side. Heads of both academic departments agreed, made plans for the space, and the STEAM (Science, Technology, Engineering, Art, and Math) Studio enjoyed its ribbon cutting in December 2016.
The studio is located off campus in a warehouse in Asheville's River Arts District. The 12,000-sq.-ft. space is home to a wood- and metalworking shop. Equipment includes CNC mills and lathes, welding systems, a manual plasma cutter, wood lathes, band saws, a CNC router, laser cutter, planer, jointer, wide-belt sander, and a waterjet.
Read full article