Customer Success: Manufacturing
OMAX Helps Fabricator Rein in Costs and Expand into New Markets
A supersonic jet stream of water and abrasive can cut through almost any material with high precision, a fabrication shop in Eugene, Oregon discovered.
Harvest Valley Specialties (HVS) was founded in 2008 to provide design and fabrication services to businesses in the Willamette Valley, including breweries and wineries. Known as "Oregon Wine Country," the Willamette Valley is home to more than 500 wineries and famous for its world class Pinot noir. HVS is a family business owned by Randy and Lorena Brigl, with their son Josh running the waterjet department. HVS likes to do a little bit of everything, from one-off prototypes to typical job shop work. When they first opened, they occasionally got orders that required components cut from materials or thicknesses their press brake, shear, punch and plasma torch couldn't handle. That component work was outsourced to other shops with waterjet machines or lasers. But the lead time for the outsourced work was 1-3 weeks, significantly increasing total production time and costs for those projects. It also hampered HVS's ability to take on quick turnaround jobs.
Word circulated around the Valley about HVS's good quality work. Order volumes increased, the business grew, and so did its dependence on outsourcing components. Lorena Brigl, in charge of finances, found the business was spending an average of 35K USD per year on outsourced cutting work. The Brigls knew they needed a solution that allowed them to handle more of the work in-house. "The initial cost of a laser and cost of maintenance and consumables weren't within our budget," explains Randy Brigl. "I didn't know much about abrasive waterjets, including their accuracy and what maintenance was required. But when I talked with Greg Smith, the OMAX sales manager for our region, I was interested in what they had to offer. The versatility, accuracy, cut quality and affordability of their waterjets sounded like a great match for our needs. We sent a drawing file for OMAX to cut and they had it back the next day."
More and more fabricators are turning to waterjet machines rather than traditional CNC mills, lasers, or wire EDMs to cut material because waterjets can handle such a big variety of materials and thicknesses. Most of what HVS cuts is from stainless and mild steel, but they also get job orders that require cutting glass, ceramic tile, UHMW polyethylene and stone, all materials that a waterjet can cut with high precision, no heat-affected zone, and no tool changes.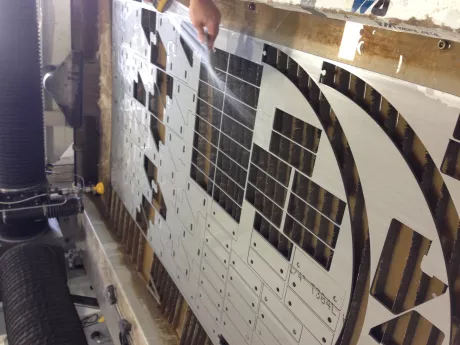 Impressed with what they had learned about waterjet technology so far and wanting to learn more, Lorena and Randy decided to visit the OMAX manufacturing plant in Kent, Washington that same week. "We toured the OMAX facility and had a really good experience, the hospitality was excellent," describes Randy. "I'd recommend to everyone that's able to go see where the machines are built and how they're built. After seeing the different waterjet machines in operation on the manufacturing floor as well as in the demo lab, it was easier to determine which model and size machine would best fit our needs. We liked the company atmosphere and the quality of the workmanship, and decided to purchase an OMAX 55100."
One factor that influenced the Brigls to choose an OMAX waterjet was the fact that OMAX offers free training for the life of the machine. Once the machine was purchased, Lorena and Randy's son Josh Brigl attended a hands-on waterjet operator training course at OMAX headquarters in Kent. After OMAX technicians set up the waterjet at the HVS shop, Lorena and Randy attended the training course.
With the OMAX waterjet added to their equipment inventory, HVS has reduced production time and labor costs for a lot of the work they do. "Having the waterjet gives us much more freedom," says Randy. "We don't have to rely on outsourcing our cutting needs. We can turn around most jobs much quicker. We can also take on emergency jobs. The quicker turnaround has been key to our increased revenue."
Another boost to the company's revenue is their expansion into the waterjet-specific cutting market. "It took about 6 months to get the word out without any real advertising," adds Randy. "It has opened up a whole new market for us. We can take in more orders because we can handle a wider variety of materials. Business has really picked up. Now we have a steady flow of jobs coming through the shop."
Another unexpected benefit from the waterjet purchase is how it has streamlined the shop's operations. Randy comments that the waterjet has "changed our thought process on how we design projects. We can be much more creative now that we can cut virtually any shape and thickness from most any material. In addition to cutting our parts, we use the waterjet to cut weld fixtures, templates and jigs to speed up assembly time and reduce labor costs. We've reduced the time we spend doing layout work and tool changes, and our part accuracy has increased."
Waterjet capability at HVS has also changed perceptions of customers, and their cutting requests. Randy continues, "Many new customers don't realize the capabilities and benefits of waterjet cutting, such as no heat-affected edges and the ability to cut virtually any thick materials that a laser won't touch. We have samples to offer that show the accuracy and definition of cut and edge quality based on different cutting speeds. We experienced an increased demand for thicker parts." To handle those requests, HVS decided to upgrade their cutting head to a Tilt-A-Jet, which allows for taper-free cutting without slowing down cutting speed. "The very slight kerf taper has never been a problem with thinner gauge parts up to 1/8 in. The Tilt-A-Jet will allow us to cut tight tolerance holes, for example to press fit bronze bushings in 1/2 in. stainless steel plate, and reduce the tolerance needed for interlocking assemblies."
The OMAX waterjet has expanded HVS's customer base, enabled them to stay competitive in their market and helped the business grow. The shop has processed over 90,000 lbs. of stainless steel raw material over the last year and they're now a 5000-sq. ft. facility with a shop staff of 6 people.
Randy concludes, "We've been very happy with the decision to purchase an OMAX waterjet. When you find the perfect tool to accomplish the goal, you don't look back!"