Customer Success: Manufacturing
Central Canadian Glass – Industry Leaders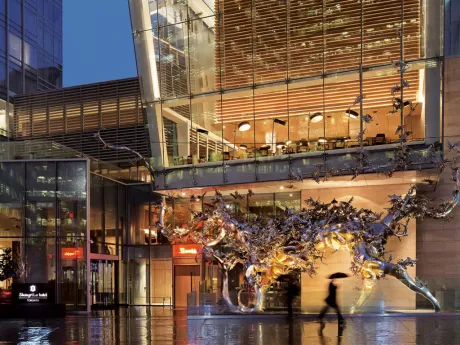 Fogo Island Inn. New York Yankee Stadium. Shangri-La Hotel. These are just a few extraordinary projects produced by the glass architectural and design-focused Central Canadian Glass (CCG). Their large shop highlights an all-in-one method of production where fixturing, stonework, and metal are cut alongside glass. Committed to providing their clients a product of the highest possible quality with the best turnaround time, the Concord, Ontario-based fabrication shop has earned the right to be called an industry leader in custom glass.
CCG started in 1988 with four people. "Glass is the last product you need in a construction project," said Pat Trainor, President of Central Canadian Glass. "And once the area for the glass is measured, they need it. Our growth was driven by lead times. We decided to go with technology to build our business." Over the years, CCG utilized progressive glass cutting methods to give them a competitive edge when introducing new products to market. Today, the company now has 55 employees and a 3,700 square-meter facility that contains state-of-the-art glass fabricating equipment operated by experienced craftsmen.
One of the primary innovations CCG made over the course of their 31-year history was integrating OMAX abrasive waterjets into their workflow. All OMAX product lines can be used for cutting a wide variety of glass products, from ultra-thin panels for smartphones to thick multi-layered bullet-proof panels for vehicles and buildings to panels for stained glass windows. There are some inherent issues with machine cutting glass, OMAX resolved these challenges by introducing low-pressure piercing. Now, even the most brittle glass can easily be pierced to create a starting point, yet still be cut at maximum speed.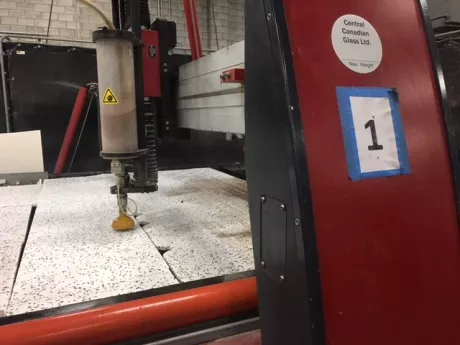 Trainor recounted his first meeting with OMAX, "Years ago, an OMAX salesperson walked into our office making a sales call. I asked, 'What is the best thing about OMAX?'  The salesperson responded, 'the people.'  It was at that point I knew that OMAX would make a great partner." CCG has been a customer for years, utilizing customer service and support to ensure their machines are always making money. The Kent Washington Team, as well as local distributors, Spark & Co, back up the promise of attentive assistance whenever CCG calls. Trainor added, "I know what my time is worth."
In January of 2014, CCG purchased a MAXIEM 2040 JetMachining Center. Designed for shops with high-capacity production demands, the MAXIEM 2040 abrasive waterjet system can easily machine almost any material. Trainor elaborated, "Cutting with our waterjet allows us accuracy and repeatability." The MAXIEM line showcases a linier accuracy of 0.762 mm and a repeatably of 0.025mm making remarkably precise.
Beyond precision, the MAXIEM helped improve CCG's productivity. "Something that was a one- or two-week job, we do in one or two hours," said Trainor. CCG is renowned for their ability to put out great quality work when the customer requires. "We'll go into any shop in Eastern Canada or the North East United States and we'll say, "We're not cheap, but when do you need it?'"  When a job needs to be done, and it needs to be done right, CCG has been there. To help facilitate this commitment, CCG purchased a second MAXIEM 2040 in 2015.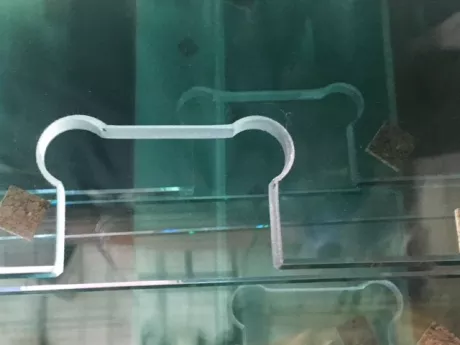 The fabrication shop primarily cuts 3-19mm glass and mirror. However, as Trainor explained, "Since we've introduced OMAX, it has got us into so many different industries. We're into everything now: glass, metal, stone, you name it, we cut it with a waterjet. The diversity of what we can offer is key. A lot of contractors, architects, designers don't want to run all over the place getting this here or that that there. They come to us."
The ability to diversify has allowed Trainor and CCG to cut for a wide variety of industries including recreational vehicles, mining equipment, store fixtures, and mill work. "We're very diversified," said Trainor. "If one side of the business is slow, we have another the marine business or the RV business."
For over thirty years, CCG has done nothing but grow. From customer glass fabrication, to a wide array of markets, the technology the shop has adopted helped create a thriving business.