Customer Success: Educational Institutions
High School Robotics meets GlobalMAX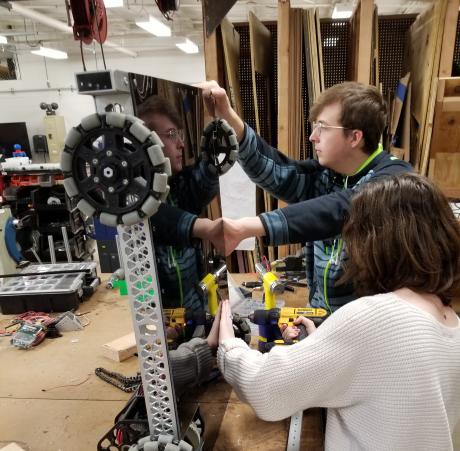 "The engineering program has three classes: Robotics, Design and Precision Machining, and Computer Science," said Marcus Edwards, Terrell Independent School District's (ISD) robotics coach and manufacturing teacher. "Our facility has three rooms that are 60x40 feet. There are 40 machines in these spaces that range from 3D printers to our GlobalMAX 1530."
Two years ago, Edwards was given the opportunity to build the Robotics/Engineering Program at Terrell ISD in Terrell, TX. Since then he has introduced students to manufacturing procedures, fabricating methods, and prototyping practices. "Each year there has been a push to expose the students to design, programming, and machining within the robotics field. There is a strong team that is creating great experiences for the Terrell High School students," said Edwards.
In 2018, Terrell purchased their GlobalMAX 1530 as a way to expand their material cutting capabilities while introducing their students to advanced machining technology. Terrell's three shops already housed a CNC mill, CNC lathes, full-spectrum lasers, a CNC router, a Kuka Robots, and an array of different 3D printers. "We knew that we had a bottleneck within our production with our router so we went after a solution that would prove to be the key to our problem," explained Edwards. "We choose OMAX because they are conspiring for the young engineers."
So far at Terrell ISD, the GlobalMAX has been utilized for more rapid manufacturing. Some of the pieces cut on the waterjet have been linkages and joints for the robotics team, several arcade game wooden cabinets sides, and sheet metal projects of all kinds. "[The students'] reaction has been an awe moment when water cuts so precisely through their cad drawings. Bringing their design to life," stated Edwards. The Terrell ISD students have also had the opportunity to explore alternative materials by cutting polycarbonates. Material thicknesses range between .04" to 1" on all materials.
The GlobalMAX 1530 is an essential, reliable OMAX brand abrasive waterjet. This value-focused abrasive waterjet can cut almost any material and a wide variety of thicknesses without any heat-affected zone. The GlobalMAX line was designed around simplicity and durability with a minimal overall footprint to give even more options to shops looking to add waterjet capabilities. The 1530 model features a cutting bed of 10' 0" x 5' 0", an efficient direct drive pump and a number of accessories.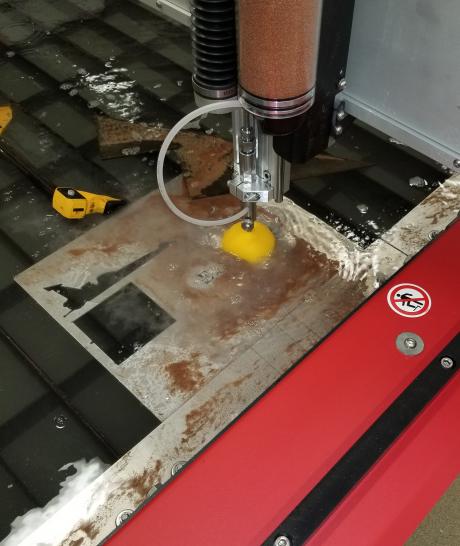 The Terrell High School Robotics team competes in the First Robotics Competition. The team manufactures the robots on-site using what they have learned in class to resolve the best methods of fabrication for their desired outcome. The school also is involved in producing AR2 robot arms and realizing ground-up student builds. Having the freedom and the right means to create whatever the students can imagine has created an atmosphere of unbound creativity.
The GlobalMAX also uses OMAX's IntelliMAX software. IntelliMAX is an easy-to-use CAD/CAM that supports files from other CAD programs including .dxf, .dwg, .ord, .ai, .pdf, and .svg formats. This makes the software particularly attractive to educators, as users don't need to learn another CAD program to run the machine. If a user is already proficient in another CAD program, chances are you can export and upload your preferred file directly into our IntelliMAX software. Furthermore, since the software for the GlobalMAX is essentially the same as the OMAX or MAXIEM lines, the students are getting real hands-on training on a machine they may encounter as a member of the manufacturing workforce.
It is becoming increasingly important to equip today students with the tools to succeed in a dynamic manufacturing landscape. That is why it is hugely beneficial that educational programs, like Terrell's Robotics, continue to push the limits of what has been traditionally taught in a primary school curriculum. High Schools, Community Colleges, and Technical Colleges are finding OMAX abrasive waterjets to be the ultimate vehicle to educate students, and makers, on the most effective operation and application of this critical makerspace and shop technology. "We were pleased to add an OMAX GlobalMAX 1530 because of the passion that the entire company expressed for our students," said Edwards. Though education, imagination, and experience, the student of Terrell ISD are posed to shape tomorrow's manufacturing.