ProtoMAX WATERJET MACHINE
Compact. Powerful. Personal.
Designed and built alongside the revolutionary OMAX waterjets, The ProtoMAX is a compact, self-contained cutting system ideally suited for prototyping and low-volume cutting of almost any material approximately 1" thick. Bringing all the versatility benefits of large abrasive waterjet cutters together in a sleek and economic package, this machine is ideal for prototyping or as a complement to a larger machine shop.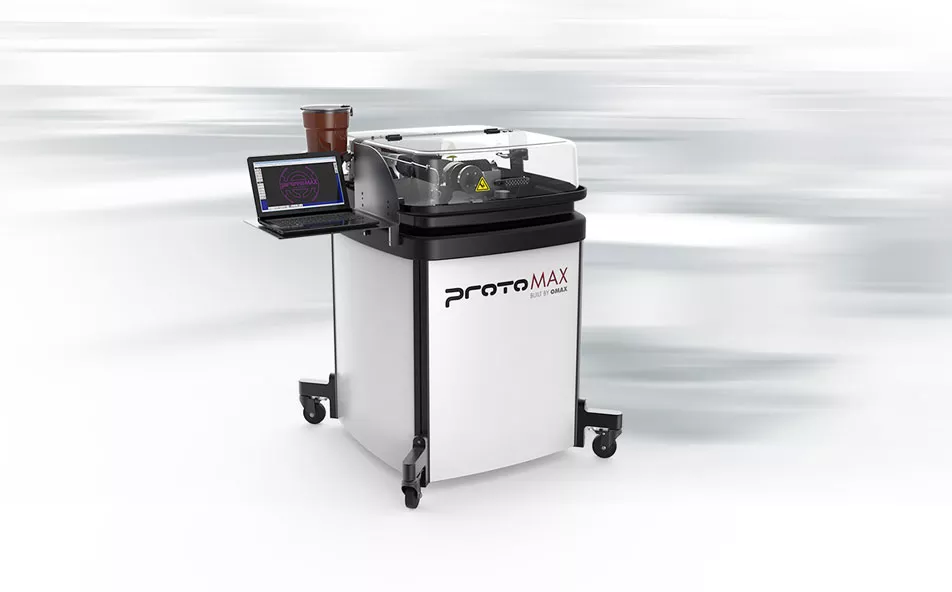 Upgrade Package
All the extras to make cutting more efficient
---
INCLUDES
ProtoMAX Abrasive Waterjet Cutting Table
ProtoMAX 30,000psi 5hp Direct Drive Pump
Nozzle Assembly
Garnet Abrasive, 55lb Bucket
LAPTOP & SOFTWARE
Laptop
IntelliMAX Proto Software
Software Seats

Unlimited

Software Upgrades

Free for Life

1 Year Warranty
System Spare Parts Kit
Drain Water Filter Tank
Water Spray Kit
Power Package
Upgrade Package plus extra garnet for continuous powerful waterjet cutting
---
INCLUDES
ProtoMAX Abrasive Waterjet Cutting Table
ProtoMAX 30,000psi 5hp Direct Drive Pump
Nozzle Assembly
Garnet Abrasive, 55lb Bucket
LAPTOP & SOFTWARE
Laptop
IntelliMAX Proto Software
Software Seats

Unlimited

Software Upgrades

Free for Life

1 Year Warranty
System Spare Parts Kit
Drain Water Filter Tank
Water Spray Kit

6 Buckets of Garnet Abrasive, 55lb Bucket
Standard Package
Additional consumables to keep your operation running smoothly
---
INCLUDES
ProtoMAX Abrasive Waterjet Cutting Table
ProtoMAX 30,000psi 5hp Direct Drive Pump
Nozzle Assembly
Garnet Abrasive, 55lb Bucket
LAPTOP & SOFTWARE
Laptop
IntelliMAX Proto Software
Software Seats

Unlimited

Software Upgrades

Free for Life

1 Year Warranty