Tips & Tricks
Before You Move Your Waterjet...
As your workshop or factory floor evolves, you may find that the original placement of your OMAX abrasive waterjet isn't quite what works best for your needs. Or… you may be expanding to a larger facility to accommodate more machinery. Whatever the reason, when you start to think of moving your waterjet, there are a few things OMAX customer support would like you to consider.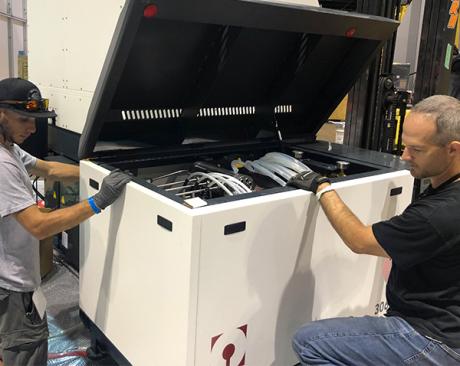 Note that OMAX recommends you contact customer support and request an OMAX technician for the move. The considerations below reflect additional concerns to be addressed prior to the technician being on site. Abrasive waterjets are high-precision machines and a lot can get thrown out of whack when improperly transporting. To make sure your OMAX abrasive waterjet is working the way you need it to after relocation, please follow all recommended procedures listed here and in your specific machine's installation document.
- At the original location, the point of transit, and the end location, be sure to have a plan for rigging support. Ensure your plan includes properly rated lift equipment (crane, hoist, forklift, straps, and qualified personal to conduct operations).
DO NOT LIFT YOUR MACHINE BY THE BRIDGE OR CANTILEVERS
Never move a bridge-style machine, (GlobalMAX, MAXIEM or OMAX) with the bridge on it. It MUST be removed for transportation.
Always re-install the jacking screw support to the end of the cantilever and secure the X-Y to prevent motion prior to moving. If you no longer have the components initially shipped with the machine, contact OMAX customer support.
- When getting ready to move your waterjet, drain it. Remove all water and solids by pumping it out via vacuum truck or by manually shoveling it. The combined additional weight of water and abrasive is substantial and potentially messy.
- To make sure your abrasive waterjet isn't damaged in transit make sure you have proper packaging materials. Packaging material are to be supplied by you.
- You'll need to remove all exterior plumbing as well as the fitting connecting the high-pressure pump to the whip. Disconnect cabling.
- You will be required to provide personnel to assist with removal of the old foam dams and epoxy from the base of the machine at the original location, prior to loading and transportation.
- You will need to order new foam dams and epoxy for leveling your machine. Please allow ample time prior to the move since epoxy can ONLY ship via ground service due to its classification as a hazardous material.
- Utilities need to be provided at the designated site prior to OMAX arrival. An electrician will need be on site for removal of the 460 vac 3 phase power as well as the reestablishing of power as the destination. 
- At the new location, double check that you have water, power, drainage, and air available so that the technician can assemble your machine again in short order. 
Proper care for your waterjet will result in years of effective OMAX abrasive waterjet cutting. If you have any further question on your particular situation regarding moving your machine, contact OMAX customer support.