Advancements in Waterjet- OptiMAX
In our upcoming event "Advancements in Waterjet – OptiMAX", we'll be exploring the newest waterjet system by OMAX. Hosted by Steve Ulmer, Regional Director of Waterjet Sales, you'll get a state of the company as well as a preview of our upcoming events for 2022. Meet with Arion Vandergon to explore the evolution of the new OptiMAX system while also examining a few of the innovative features. In the second half of the show, we'll be talking to Jo Parrot about the advancements of IntelliMAX software specifically for the OptiMAX. You'll see new 3D path optimization and get a sneak peek into augmented reality maintenance. The program rounds out with live Q&A.
The OptiMAX is currently available in a 60X and 80X model. The OMAX Virtual Trade Show series are a perfect opportunity for fabricators and machinists, who are too busy to attend trade shows in person, to keep up on trends in the world of waterjet.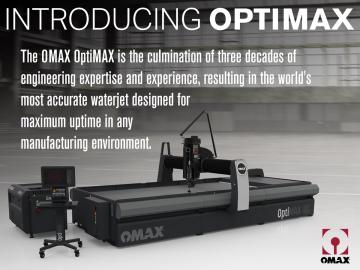 Return to virtual events